Just like most black cats, potential adopters overlooked Blackie when looking for a new companion.
In early December 2014, Blackie and his brother, Bentley, came in to the BC SPCA South Okanagan/Similkameen Branch as strays, where they waited for two months before their new owner came along.
While in our care, Blackie and Bentley were quiet and reserved. They kept to themselves until they found their new home, when their real personalities could finally shine through.
For their new owner, it was actually Blackie's dark and handsome exterior that initially drew her in. Once she discovered Blackie's bond with Bentley, she couldn't help but open her life and soul to the pair of them.
Now, she has written to tell us about the joys of adopting a bonded pair of cats:
It had only been two months since I lost my dear precious Sacha to bone cancer and I was so, so sad. My level of grief was so unexpected even though there was a very strong love bond between this beautiful soul and myself.
I had no intention of getting another cat, but I began to feel these nudges to visit the BC SPCA. Finally, I went, as I knew that this was inner guidance.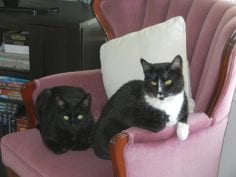 I was attracted to Blackie, perhaps because he was the same color as Sacha. Only after researching him did I find out that he had a brother, Bentley, and they were a bonded pair. The shelter wanted them adopted together.
Well, I didn't even want one cat, let alone two.
Over the next ten days I found myself visiting the shelter every day or two. I was trying to decide about adopting two cats rather than one.
After three visits to see these two boys, the shelter decided to offer to separate the pair and let me adopt only one, as they had been there a long time. Oh, no, I couldn't let that happen—they loved each other so much.
A few days later I came back and told them that I would take the pair.
These two boys are such a joy and a blessing. They do everything together. They eat together, sleep together, play together and groom each other. They love each other so much.
I would advise anyone to consider adopting a bonded pair. Please give it a try and they will enhance your life in unimaginable ways. There is so much love.
We agree. Really, what's better than one cat? Two cats, of course! Thank you for making adoption your first option.