Birdie was found as part of a stray litter and brought to the  BC SPCA North Cariboo District Branch when she was only one-month-old. Soon after Birdie was rescued, she was transferred to foster care as she was still too young to be placed for adoption.
Along with her littermates, Birdie was taken to the home of a BC SPCA volunteer where she and her siblings received lots of love until they were ready to find new forever homes.
Birdie and her foster guardians developed a special bond while they cared for her so they decided to officially adopt Birdie and give her a forever home. Birdie's guardians have sent us this update to let us know how everyone is doing: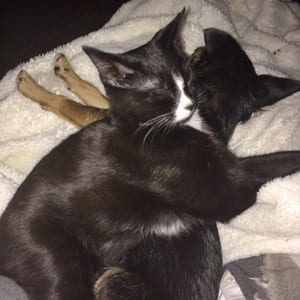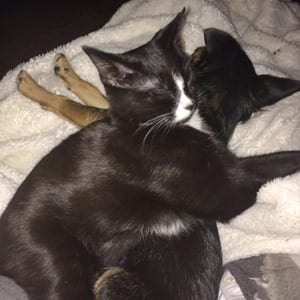 We fostered the "Strathcona kittens" in the fall of 2016 and then adopted my kitten, Birdie, from the BC SPCA North Cariboo District Branch on October 31, 2016.
When we fostered the litter we found that Birdie really got along well with our dog Nechako. They are now best friends and enjoy playing and cuddling together. When Birdie's not with Nechako, she enjoys climbing on her kitty tree and sitting with us while we watch TV.
She is the sweetest kitten and brings the whole family happiness every day.
Thank you!
It's great to hear that Birdie is doing so well and has made a best friend in Nechako. Thank you not only for making adoption your first choice, but also for all of your volunteer work helping to foster and care for the animals most in need. We like to think that Birdie's way of saying thanks is to keep you smiling every day.