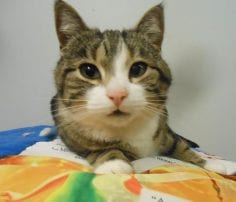 Luna was surrendered to the BC SPCA North Cariboo District Branch on Apr. 20, 2016. Her previous guardian had to put her up for adoption because their children had developed allergies. Later she was transferred to the BC SPCA Burnaby Branch.
When Luna came to the branch, she was a bit shy but quickly got comfortable with everyone.
She loved having people's attention and enjoyed her fair share of belly rubs. She was very playful but might not have been ready to live with other cats just yet. Though she seemed always ready to crawl into someone's lap and pout until she was petted and cuddled.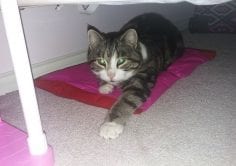 Soon after, she found her new forever family on Apr. 30, 2016. They wrote us this update to let us know how she's doing:
We saw Luna at the website of SPCA Burnaby and she was such a beautiful kitty; we wanted to go meet her.
Apparently, she was surrendered with her sister, Moon, who was adorable as well but did not seem very bonded to her.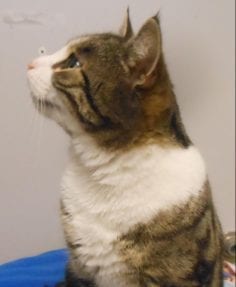 Luna seemed the more shy of the two but she let us hold her and pet her. Our family wanted an affectionate cat and we couldn't have found a more purrfect match than Luna.
She is so sweet and wants attention; she accepted us from the first day, sitting on our lap and purring.
The nice thing is at first she was not interested in playing, just cuddling. Now after two weeks she surprises us when she starts running out of nowhere, jumping and playing…so funny!
We are very glad to hear that Luna loosened up and showed you how playful and silly she can be. It's great that she can be her sweet, affectionate self and has a family that can give her the love and attention she thrives for. Thanks for giving her the forever home she was looking for, and making adoption your first choice.