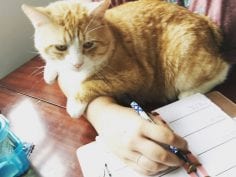 In 2015, BB (short for Big Boy) was surrendered to the BC SPCA Vancouver Branch after his former guardian developed allergies.
This lovable ginger was very affectionate and social and it wasn't long before he was adopted into his forever home. His new family wrote to let us know BB, now more than seven years old, is doing great and has even moved twice:
I adopted BB in 2015 and he is the best thing that ever happened to me.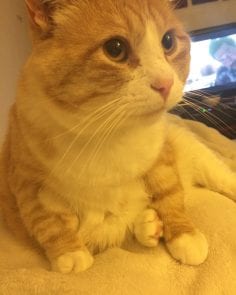 I went to the SPCA that day just to pet cute animals with no intentions of adopting right then, but as soon as I saw him I knew we belonged together!
As soon as I got him home I thought he would take time to adjust but less than 10 minutes later he was in bed with me cuddling.
We have since left B.C. and moved to Prince Edward Island for a year; now we're in Ontario.
Everyone who meets him instantly falls in love, and he is still to this day the best decision I've ever made!
We are happy to see that BB found his forever home with such a lovely family.
Thank you to his new family for making adoption their first option.