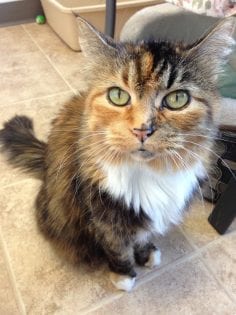 Most of us have probably made a bad first impression at some point in our lives, right? Lucky for Baby, her adopter, Joy, gave her the benefit of the doubt!
After her previous owner passed away, Baby arrived at the BC SPCA Vancouver Branch in search of a new home where she could happily live out her senior years.
While in our care, Baby loved attention but wasn't afraid to let us know when she'd had enough. She had something to say to anyone who would listen, but she wasn't going to pick just any human. The right one had to come along before Baby would approve. She needed a patient, kind, cat-savvy friend. Baby found this in Joy.
Four years later, Joy has written to provide us with an update on life with Baby:
Baby was a senior cat that was not friendly. I fell in love with a picture of her and, when I came to adopt her, the volunteers were trying to show me how friendly she was and she kept biting at them.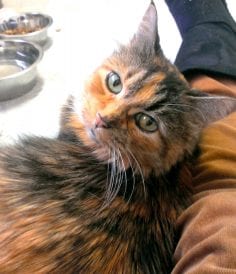 For the first two years Baby would cower when I went to pat her. She has discovered that kisses are good and she likes to be kissed on the nose.
Baby has recently started demanding affection—also treats. In the morning she gets on the bed and yells, "Get up!" at my feet. You can definitely tell when she's hungry.
I think we went from being unsure about each other, to Baby now being spoiled and ruling the roost. I love her so much!
Animals often act differently when in the shelter environment and can take time to adjust to new surroundings. Thank you for taking a chance by adopting Baby and allowing her to adjust to her new life on her terms. You have given this senior lady a second chance for happiness.