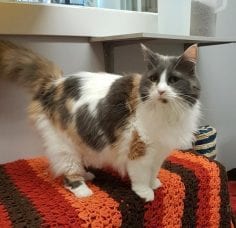 Autumn was a beautiful, mature cat and came to the BC SPCA North Cariboo District Branch on Jul. 6, 2016. Her previous guardians were moving and unable to take sweet Autumn with them, so they came to us to help her find a new forever home.
Over the next few months, we got to know Autumn and discovered how calm and relaxed she was, and knew she needed a gentle home to go along with her easygoing personality.
She was very social and loved to be affectionate and playful with others. We knew from her history that she was an indoor cat only, so some toys and attention were sufficient to keep her busy. Though she was content to laze the days away as well, she would need her new guardians to keep a close eye on her if they wanted to bring her outside.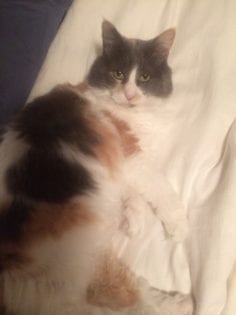 A few months later, she was transferred to the BC SPCA Vancouver Branch, where she didn't spend long before her new forever family found her. They brought her home on Oct. 8, 2016, and wrote to let us know how she has been doing:
Just wanted to drop a line to update you on Autumn.  She is a 13-year old who spent a mere few hours at the Vancouver shelter before stealing our hearts. 
We visited the Vancouver shelter to see a different cat, but Autumn—in the cage next door—caught our attention with her beautiful colours and outrageous flirting.
She's a very confident, affectionate, and playful cat. She took no time to get settled on her scratching post by the window and to claim our home as her domain. We've dubbed her the "proximity cat" for her continuous need to be near a lap—not on it.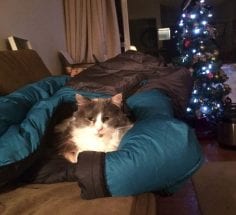 She was very easy to leash-train. Her fur is so thick that she likely doesn't notice the harness. She simply thinks that it's normal that we should follow her around as she cautiously explores the outdoors.
We love our new addition to the family.
Thanks to you and your volunteers for all that you do.
That is fantastic to hear that she's able to enjoy the fresh air with her caring guardians beside her. It's nice to see she settled in so quickly and easily; she obviously has all the comforts and love that she needs. Thank you so much for giving Autumn her second chance and making adoption your first choice.