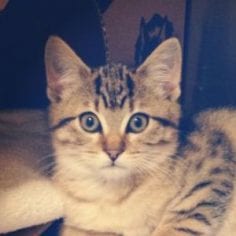 Apple was brought into the care of the BC SPCA Parksville-Qualicum Beach Branch in October 2014 as a stray. This charming kitty soon found herself in the middle of a cat-loving family with both human and feline siblings. Her adoptive family has shared this update: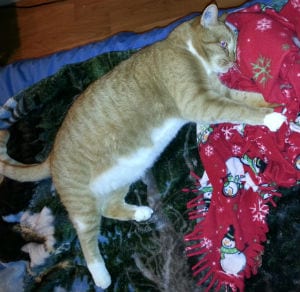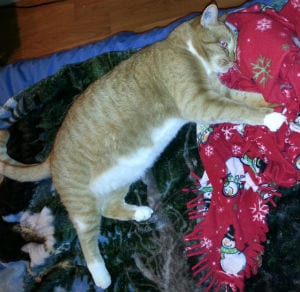 We adopted Apple from the BC SPCA Parksville-Qualicum Beach Branch and renamed her Silver Belle. She was just 12-weeks-old and spayed one week before we got her. We have two other male cats at home and one is a wonderful stray I found and named Mr. Kitty. I kept him as he was such an angel and clearly was an abandoned pet from a household of kids as he loves them.
He took to sleeping on our pillows at night to make up for years outside. We also adopted Rusty a few years ago from the same BC SPCA shelter. We renamed him Nemo because he is orange and white and has an ear tip cropped to match the movie Finding Nemo (the fish has one tiny fin). We thought Nemo was nearly grown up when we got him but he has nearly doubled in size since then!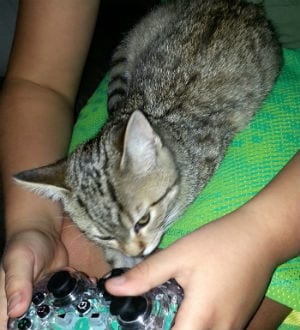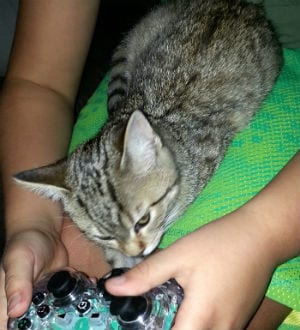 We adopted Silver Belle because one day, my seven-year-old daughter asked to go to the BC SPCA to get a girl kitten and I said OK, let's just look.
There was only one kitten who was pending adoption. I told my daughter she was taken but let her play with the kitten in the play room. I looked at the older cats but none looked like a match for my nice boy cats. Silver Belle was supposed to already be gone to her new home on Saturday but it was Tuesday and still no had come for her. So the front desk lady made a phone call and then said we could have her!
Silver Belle is so smart and we love wild-looking tabbies. She learned everything instantly and knows how to get the toys even when we try to trick her. She learned to use the ladder to the top bunk to cuddle and to use the litter and scratch posts on her first try. She of course was instantly loved by Mr. Kitty and my one-year-old son.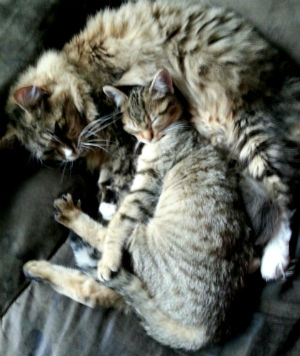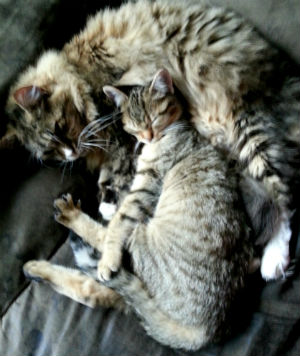 Nemo was a bit scared of the tiny kitten for the first week. She ran up to see him too fast and got a slap for surprising him. Silver Belle now plays smartly with Nemo. Silver and Mr Kitty however play and wrestle and groom as he is gentler. Silver Belle is a sweet kitten and if I play gentle she is gentle and if we play rough she is rougher. She is too busy playing to sit still much but she will come say hi at the door and good morning and cuddles when she is sleepy or lonely.
I wish that everyone would spay and neuter and not give up so easily on their pets. Thank you to everyone at the BC SPCA and other rescues.
Thank you for providing us with this snapshot of daily life in a multi-cat household and for making adoption your first option.