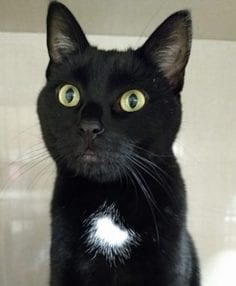 Beautiful Annie, with her shining white crest, did two turns in the shelter at the BC SPCA Parksville-Qualicum Beach & District Branch.
She was first brought in as a tiny stray from Nanaimo in September of 2015, and fostered until she was spayed and adopted at just over eight weeks of age.
Annie wasn't a fit for the family once they had children, so she was surrendered to the branch on January 16, 2018. Before long, a new family fell in love with her and took her home on January 23, 2018.
Now just under three years old, Annie is thriving in her new home. Here is an update from her forever family:
Annie has brought much love and happiness into our home.
Many years of waiting to finally have a kitty in our life and Annie has been the perfect match.
Playful and amusing or cuddly and chilled out, she seems to fit right into our world.
Sometimes it takes time for the kitty to find just the right family. But this gal looks like she's found her fur-ever home.
Thank you for making the decision to adopt. Here's to many more happy years together.