Please allow 2-3 weeks for delivery.
Each year the BC SPCA and other agencies receive hundreds of calls to rescue pets in distress from hot vehicles. Thank you for helping us spread the word about the dangers of leaving pets in hot cars by displaying this decal on your car!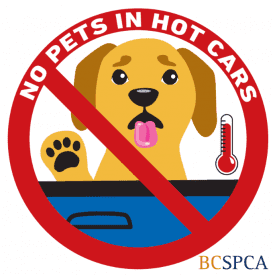 More summer safety for pets
What to do if you see an animal in a hot car
Is your dog extra sensitive to hot weather?
The top summer toxins for your pet to avoid
Awareness tips to keep pets cool in the summer heat