Please note that we are open for service but have reduced on-site staff and limited access to the building until further notice.
Phone:
1-855-622-7722
Cruelty Report and Wildlife Support Line (Toll free):
1-855-622-7722
Address:
1245 E 7th Ave, Vancouver, BC V5T 1R1, Canada
Services offered:
Community outreach
Email:
info@spca.bc.ca
Please note, due to the volume of emails received daily we may not be able to respond immediately. Should you need urgent assistance, please call.
Hours of operation:
Monday to Friday:

8:30 a.m. to 4:30 p.m.

Saturday and Sunday:

Closed

Stat Holidays:

Closed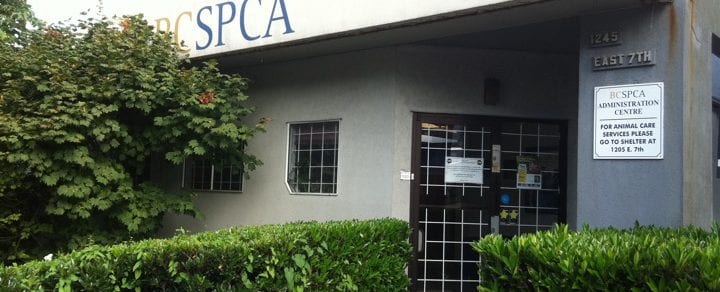 Welcome to the Provincial Office. We are one of 44 BC SPCA locations across the province working to protect and enhance the quality of life for sick, neglected, abused and homeless animals.
Our office is the administrative centre for the society and the central hub for all BC SPCA provincial programs and services related to cruelty investigations, humane education, advocacy, animal health and welfare, scientific programs, fundraising, government relations, farm animal welfare, wildlife welfare, community relations, information technology, human resources, volunteering and financial services. We are happy to provide assistance related to our services or information about any of our locations across the province.
The BC SPCA is a not-for-profit organization which relies primarily on community donations to help animals in need. Please join us in the fight against animal cruelty!