Buying ethical meat/dairy
The short answer is, yes. The SPCA Certified program has been approved to sell in all Costco locations across Canada. SPCA Certified eggs are available at Costco, but you may not see the SPCA Certified red barn logo on Costco egg cartons.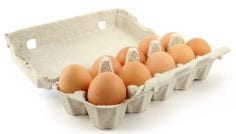 Costco works with many different animal welfare certification programs to ensure their eggs are raised to high standards. Costco's 'Kirkland Signature Organic Eggs' are cage-free and sourced from farms certified under one of Costco's approved animal welfare certification programs, such as SPCA Certified.
Most small farmers cannot produce enough eggs to supply a retail giant like Costco, which sells a lot of eggs! By pooling eggs from a number of different farms, Costco can continually supply eggs certified to animal welfare standards in large quantities. With so many certifications going into each carton, it's not possible to include all the program logos on the cartons.
If you would like to learn more about which labels Costco has approved for their 'Kirkland Signature Organic Eggs', please visit the Costco website.
Learn where you can find local food retailers carrying SPCA Certified foods.