Hill's Pet Nutrition proudly supports the BC SPCA through its Food, Shelter &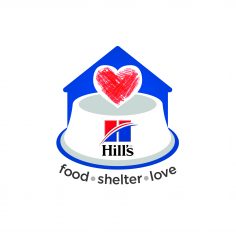 Love® program, which provides food to all BC SPCA shelters throughout the province for the animals in our care. Hill's also generously gifts each adopter with a bag of food to ease their new furry friend's transition into its forever home. This ensures a happy and healthy start to their new life!
Learn more about Hill's Pet Nutrition on their website.
Limited Time Offer
Hill's Pet Nutrition is celebrating its 75th Anniversary and to mark this special occasion. They are doing a limited-time offer* as a special thank you to BC SPCA supporters.
Get $20 back* when you spend $100 on Hill's Science Diet.
*This exclusive digital rebate offer is effective for Science Diet purchases between Sep 1- Oct 31, 2023 only. Visit HillsRebates.ca today to access this offer!