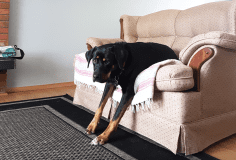 In June 2017, Xena was brought in to the BC SPCA East Kootenay Branch. Only ten months old, Xena had been travelling with a couple who had found her astray.
We soon found out that Xena loved to go on walks and runs, and she had a lovely calm temperament—as long as she'd had enough daily exercise!
It wasn't long before Stephanie and her partner fell in love with Xena at the shelter, and their lives haven't quite been the same since. They have now written to us with an update on how Xena has settled in:
Xena became a part of our family on June 30, 2017, the same day my partner and I received the keys to our first home. She has a ton of personality, and is quite the goofball. Xena is cuddly and loveable.

Xena loves to go on hikes and play with her ball. She even learned how to swim last summer, which was a very new experience for her. She loves her furry cat brother although she doesn't understand why he won't play ball with her on demand.
Xena hasn't been with us for very long but she has already taken up a huge part of our hearts.
Sometimes it's not about how long our furry friends have been in our lives, but how deeply we feel our lives would be entirely different without them. Thank you, Stephanie, for choosing adoption as your first option, and for giving Xena a forever home where she can be herself with endless cuddles from her humans and feline brother.