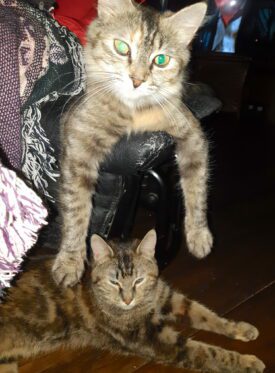 Why adopt just one cat when you could adopt two?
When Leslie felt the time was right to open her home to an animal in need, she couldn't resist adopting both Linda and Rory from the BC SPCA East Kootenay Community Animal Centre on Valentine's Day in 2022. They had her heart right from the beginning.
Naturally, it didn't take long for both Linda and Rory's personalities to shine in their new space. A couple weeks into adopting these two, Leslie has written to us with an update:
"I adopted Linda (three years old) and Rory (one year old) from the BC SPCA East Kootenay Community Animal Centre on Valentine's Day. I had been thinking about adoption for over a year but decided to wait until I was more settled into my new house.
Linda and Rory became good friends with each other within a few days of being introduced. They play with me and with each other anytime they aren't eating or sleeping.
Linda is very curious. She was immediately comfortable around me. She always wants to know what I'm doing. She is a picky eater but goes crazy when she knows she's getting her favourite soft food. She likes to sleep on me whenever she can and often sleeps under my desk when I work.
Rory was shy at first. It took a few days before she ventured out of her room. After a week, she was as curious and comfortable as Linda.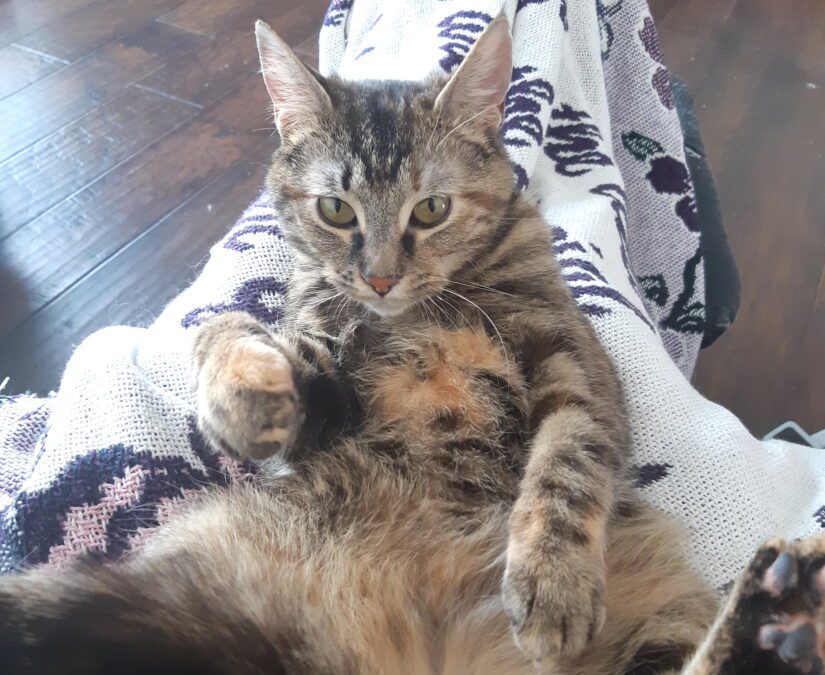 Rory would play all day long if she could. She has an adorable habit of pulling my hand to her face with her paws to get me to pet her. She has also decided that her favourite place to take a bath is on my lap.
In only two weeks, they have brought me so much laughter and joy and it appears that the feeling is mutual!"
Thank you, Leslie, for choosing to adopt both Linda and Rory. We are thrilled that they are so happy to live together. It certainly sounds like Linda and Rory found their confidence not only in each other but also in how comfortable you have made them feel already. We look forward to hearing about more of their antics over the years to come.
Have you adopted an animal from the BC SPCA and want to share your joy with others? Submit your adoption story!
Resources for cat guardians
How do I know if my cat loves me?