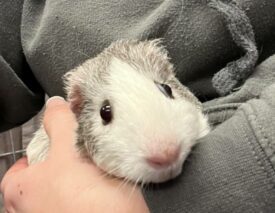 Snoopy was a young guinea pig who was surrendered to us with two other siblings when the owner found they had too many animals. They came into the BC SPCA Vernon Community Animal Centre on December 5, 2022 and went together into a foster home. By the last day of December, Snoopy had found his new family.
If you've never had a guinea pig as a companion animal, read on. You might just find yourself smitten.
"Our three-and-a-half-year-old guinea pig, Buddy, was needing a new friend after his cage mate passed. He was obviously lonely, as guinea pigs are such social animals.
I was happy to have found Snoopy listed at the Vernon branch, as I prefer to adopt whenever possible. So…we took a road trip to adopt him and bring him home to Buddy.
Snoopy looked so tiny compared to our rather large Buddy; I think Snoopy was about a third of Buddy's size! We put 'the Snoop' in his own cage for a couple of days, so he could acclimatize to me and his new environment. His foster family had done a good job socializing him, as he was dealing with all the newness very well for a six-month-old piggy.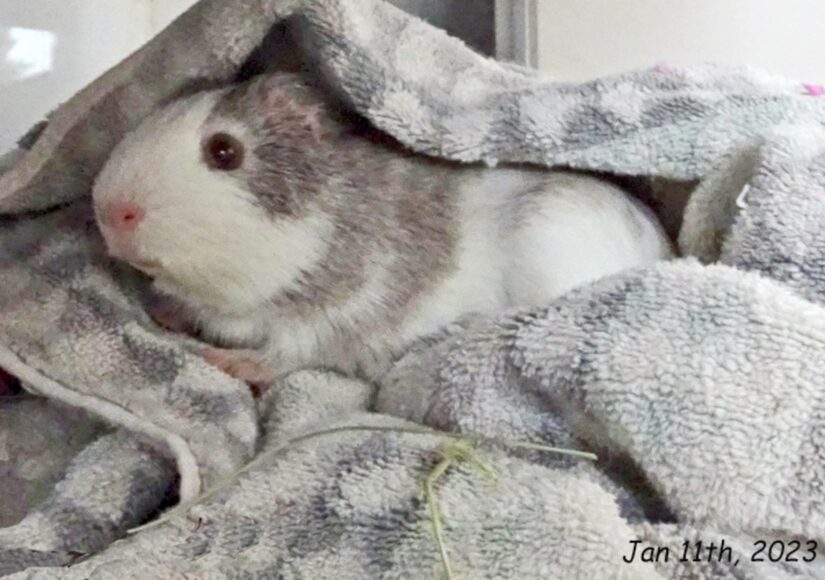 I introduced Snoopy and Buddy to each other in neutral territory—on the couch!—and within two minutes, they were shoulder to shoulder at the pellet dish, looking comfortable with each other— and to me– like they were ecstatic to have company again.
Snoopy is catching on to his new routine very well, and follows Buddy around when they are having their 'roam around time' in my office everyday, after their breakfast. He is getting more vocal now, as his comfort zone grows. Buddy is the big brother (literally and figuratively) in this situation, and is showing Snoopy 'the ropes' with all the daily routines.
Adopting is such a satisfying way to help animals in need. And guinea pigs are such social, sweet, companionable pets."
You have painted such a lovely picture of life with guinea pigs. What a delightful story about the bonding of these two brothers!
Thank you for choosing to adopt. We think you'll agree, it's a win-win situation.