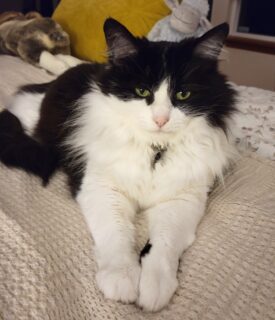 Quite often we wonder how we ever lived our lives without our pets. When Kim adopted Sébastien from the BC SPCA Comox Valley Community Animal Centre, she was pleasantly surprised at just how seamlessly this sweet senior kitty fit into her family.
Sébastien came home with Kim at a time when she needed him most, and he has given his new family nothing but love ever since.
It has now been a year since Kim adopted Sébastien in March 2022, and she has written to us with an update:
"Sébastien has become a beloved member of our family.
A year ago, I was mourning the loss of my dear cat Nikki and I saw Sébastien's profile on the BC SPCA list. I knew I had to meet him.
Sébastien has fit in beautifully with the other kitty at home, Leo. He gives him daily kisses and they love to play tag. Sébastien is such a big teddy bear—he loves cuddling on my lap or sleeping by my head. He is an expert biscuit-maker too!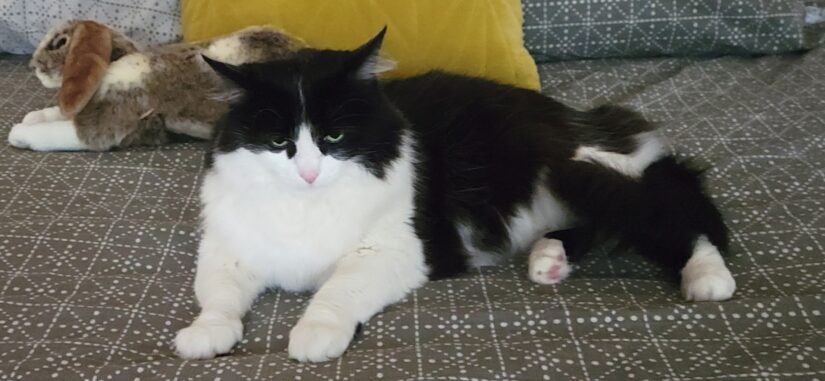 He loves to sing for his supper and he jumps up on the hope chest for his daily brushes. I have never known a cat love getting brushed as much as him. It's hard to believe he is 13 years old because he behaves just like a big kid.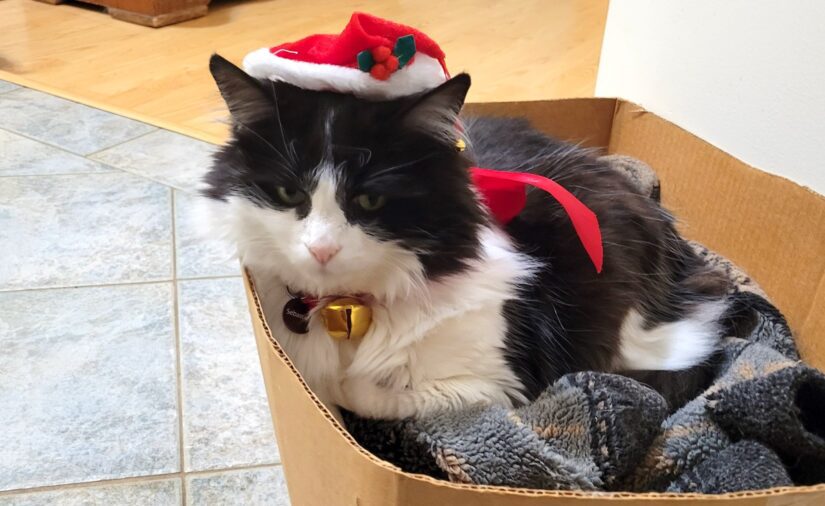 Thanks to the BC SPCA for letting me adopt Sébastien. I can't imagine life without him."
Thank you, Kim, for adopting Sébastien. We can see that he has a wonderful retirement home to live out his golden years. In choosing to adopt this senior feline in need, you have given him the gift of aging as gracefully as possible. Sébastien will undoubtedly forever be grateful to you for this. We wish you many more fluffy snuggles and happy memories to be made with him over the years to come.
Have you adopted an animal from the BC SPCA and want to share your joy with others? Submit your adoption story!
Resources for cat guardians
How do I know if my cat loves me?