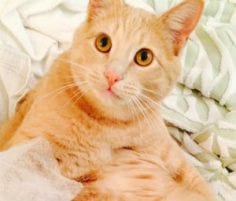 Rose had a bit of a confusing start to life, he was found abandoned in a garage and then mistaken for a female. Happily once he came into the care of the BC SPCA Abbotsford Branch everything was corrected. His new family quickly adopted him and renamed him Nibs and they have now shared this update:
I'm writing to give you an update on the kitten I adopted at the BC SPCA Abbotsford Branch in December, 2013.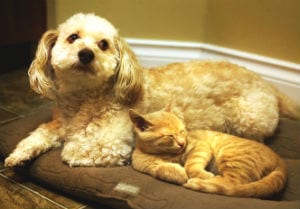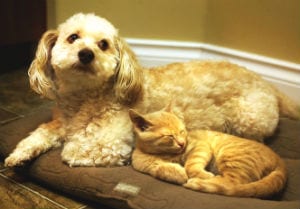 Nibs was about nine weeks old when I first met and adopted him. The name he'd been given at the shelter was Rose, which may have been because they didn't find out he was male until he was neutered. I knew he was going to be a good fit for me because as soon as I pet him, he would start purring, even in the middle of playing with his litter mates. My family and I fell in love while visiting and were so happy to bring him home. Over the first few days at his new house he met his big dog brother Koda, and quickly became an irreplaceable part of the family.
Nibs is terrific company and comfort; he's always ready to sit on a lap or jump up on a shoulder, and has the most laid back personality I've seen in a cat. Growing up with a dog taught him a few doggie characteristics, which always make people laugh. He comes on command, fetches toys, greets you enthusiastically at the door, walks on a leash, and goes for car rides. He loves any kind of food (human or otherwise, even though he's not allowed!), new dog friends, napping with humans, and belly rubs.
I am so grateful the BC SPCA gave me the opportunity to give Nibs a home. He is truly the sweetest, goofiest cat, and he will be forever cherished by his family.
Thank you,
The Flowers' Family
Thank you so much for this update and for making adoption your first option. We wish you, Nibs and Koda many more cuddles together.