In early December of 2013, Riley was surrendered into the care of the BC SPCA Vernon Branch because his previous owners had a new baby. Riley was described by BC SPCA staff as sweet and gentle, but also an "escape artist"! Although he didn't win over his adoptive family at first bark, he did win them over with some cuddling, and they have shared this update:
In December 14, 2013 my (now) husband and I took a trip to the BC SPCA Vernon Branch. We had been wanting a dog for quite some time, and finally had a house of our own with a large backyard. Regardless, I had resisted a trip up to the BC SPCA, for fear of things not working out.
That day, I had agreed to look, but didn't think we were going to come home with a new pet. We arrived at the parking lot of the BC SPCA, we got out of the car, and our Riley was barking incessantly. I had made a mental note that we weren't going to be taking that dog home. We went into the office, and had a positive experience with the staff, who took us out to show us the three large breed dogs available at the shelter that day.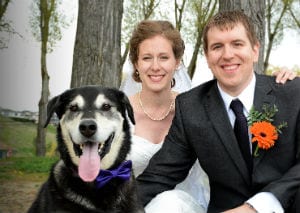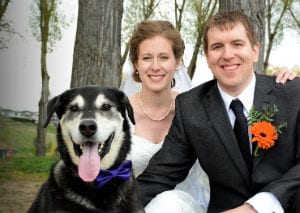 We first looked at the other two, then met Riley. We took him for a walk and connected with him. The staff member let us into his kennel and we discussed our options. During this discussion we had crouched down to the ground, and in that time Riley crawled over my husband's lap and leaned right into him with a big smile on his face. This is when I realized that we were not there to choose a dog, Riley chose us.
This past year has been a year of teaching and learning. We are teaching Riley to run with us while we bike trails, avoid swimming just before we get in the car, not to pee on other dog's heads, or take his bone outside to bury. All the while, he is teaching us patience, humility and unconditional love. He makes us smile and laugh. We are learning to turn frustration into the opportunity to teach good behaviour and manners. Riley has helped us grow from just a couple to a happy little family. We love him very much.
Amy and Michael, thank you for writing, we are so glad to hear about your commitment to Riley and efforts you are making to help him become a well-mannered dog. We wish you and Riley continued success.