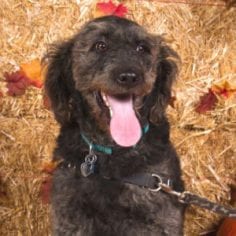 Peso was surrendered into the care of the BC SPCA Abbotsford Branch in December 2011 because his previous family could not manage him. Luckily his adoptive family had the skills, love and patience for a complicated dog like Peso. They have shared this update: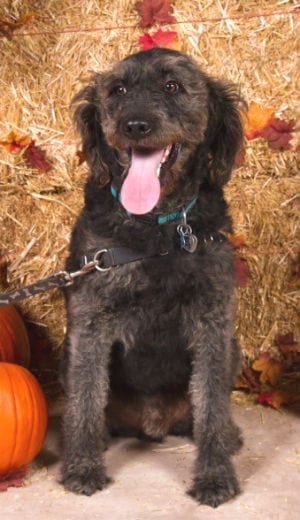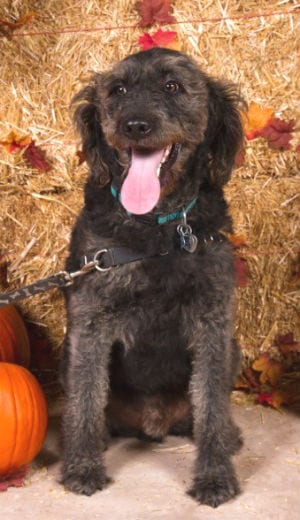 We thought our hearts would break after our dog Tina passed away, and her sibling Cubby just didn't seem as happy, even months later. I didn't know that we could take in another dog after such a painful loss but found myself checking out the BC SPCA Abbotsford Branch website anyway when up popped a photo of Peso. He looked so pathetic I just had to see him. "We have to get there before opening," I insisted, "and we will just look, not adopt, " I added, as I started writing out the adoption application form.
"He's energetic and rambunctious", we were told. I was worried that he might be too much for us, but after a few minutes in the yard I realized he was easily manageable. Such a sweet dog! He and Cubby met and got along well. As Peso had an ear infection we had to wait to adopt him but arranged to foster him until he was adoptable. We decided to wait until we had chance to take down the Christmas decorations before picking him up as he had a habit of destroying things and we didn't want him to get hurt from the decorations. So arrangements were made for us to pick him up on Boxing Day of 2011, almost three years ago, and we adopted him on Dec 30, 2011. Where has the time gone? It seems he has been with us forever and yet it also seems like yesterday.
We found indeed he did like to eat things he shouldn't. So we had to quickly learn to be neater, to keep socks out of his reach, and to secure bedroom doors in such a way that the cat could go back and forth without Marlowe (Peso's new name) having access to things he could eat as we learned he could swallow the strangest things whole, a dangerous habit.
We also had to train Marlowe not to chase the cat. It was clear he didn't mean any harm, but the cat didn't like it. So I leashed Marlowe to me in the house and let the cat loose. After a while Marlowe lost interest and the cat felt more secure around him and we could put the indoor leash away.
He enjoyed playing in the yard with Cubby and going for walks but we couldn't stop him from pulling on the leash, especially when he saw a squirrel or another dog. I tried a Halti and similar but Marlowe didn't like it at all. So I tried a harness. He was fine with it and didn't pull. So that is what we still use with him.
I've taught Marlowe to stop at curbs, to keep in step with me on stairs and steps, to stand still when older people and children ask to stroke him. He is very social on walks, loves everyone and everything, and is a favourite with everyone on our walking routes. He is also a favourite of our groomer and looks forward to going. At the moment his coat is long as the weather has been cold and people like his curly locks but when he has been clipped he looks like a lamb.
We are still working on his recall as he is easily distracted, so he is not a dog to be off leash unless he is in a very secure area. He loves playing but settles down nicely in the house, shows no interest in climbing on the furniture even though Cubby, now almost 13, spends a lot of time in the recliner and on the couch, and amuses us constantly with his upside down antics. We love him to bits and can't imagine life without him.
I have often wanted to find a way to let his former family know that he is well, happy, and very much wanted. I knew that giving him up was a difficult decision for them. Hopefully they will see this post.
Thank you so much for sharing this wonderful update. Marlowe is incredibly lucky to have found such a dedicated and caring family and we wish him continued successes with his training.