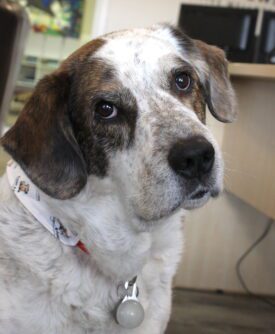 We don't necessarily need to teach an old dog new tricks, but we can certainly learn a lot from them.
When Adi adopted Oghren from the BC SPCA Kelowna Community Animal Centre in January 2022, she was prepared to work with him on his reactivity and anxiety.
Along with making her new canine pal as comfortable as possible, Adi has learned just how much of a cuddle bug he is and how to make him as happy as can be.
Several weeks into adopting Oghren, Adi has written to us with an update on how much he has already changed her life:
"Oghren is a very good boy. He struggles with some anxiety, which is understandable since he was surrendered at nine years old.
Since adopting him, I've been working with him a lot on his leash-walking behaviour. He is quite dog selective and leash reactive, which challenges us every day. Already, he has shown a lot of improvement in the last few weeks.
He used to lunge, bark, growl, snarl, snap—you name it—when another dog would walk by. Now, we practice crossing the road if we see another dog coming towards us.
I've discovered that Oghren is a cheese fanatic. If I see a trigger (usually other dogs and sometimes kids), I'm quick with the cheese to enforce some positive association for him.
He is very selective of people as well. He loves my boyfriend and me, because we are his people, but he is very unsure of others. It takes him a while to warm up to someone new.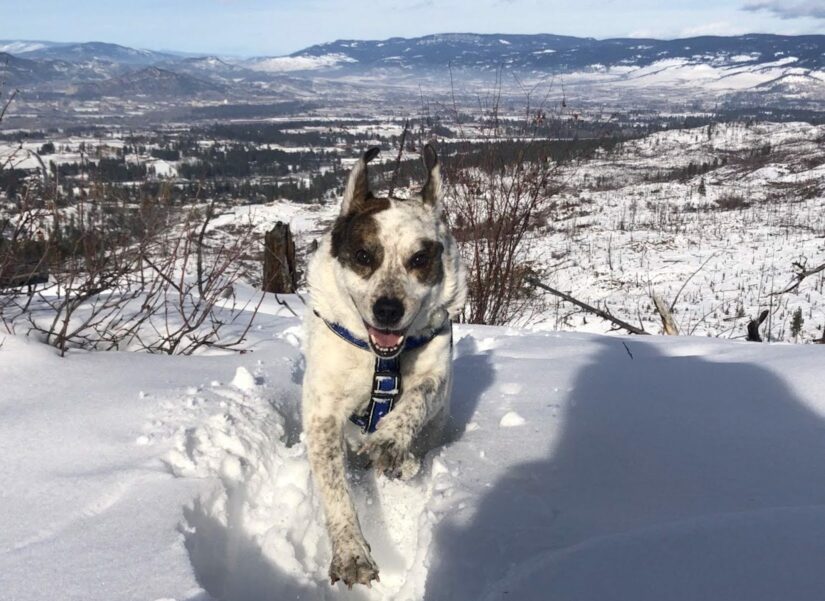 After about a month of having my soul-dog, he has really started showing me his personality. I learn more about Oghren almost every day. He is a fantastic cuddler. He loves walks and going to the park, mostly to smell everything.
He is very vocal. He whines and vocalizes when being pet if he's really enjoying it or as he greets me when I have been gone for too long, which is anything longer than five minutes.
Oghren loves to sleep on the bed. If I don't know where he is, I can find him on our bed. He is very patient with our one-year-old cat, who adores him. He doesn't know how to play with toys but he is slowly learning.
He has also taught me a lot. I have become very spatially aware, which is common for owners of reactive dogs. I've learned to be present and spend more time in the moment rather than stressing over what could be. I've also learned how to show Oghren safety after being abandoned.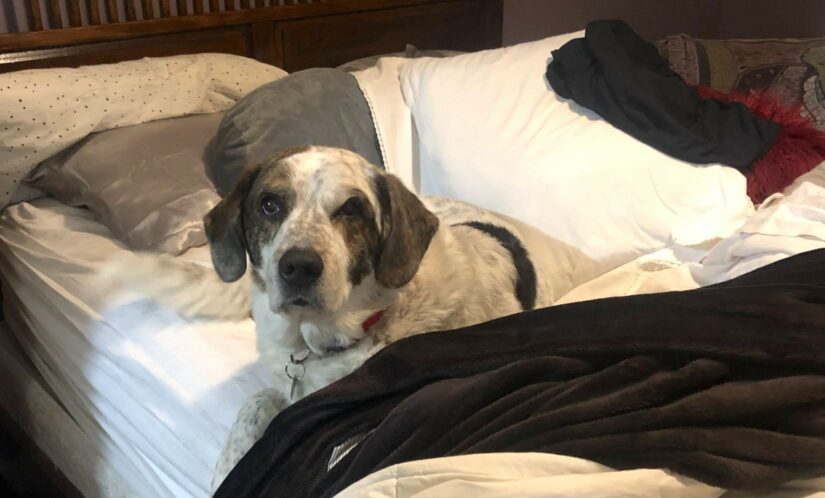 Oghren is one of a kind. I wish the world could see him the way I do. He is kind, soft and sensitive. He loves to be talked to and just wants to be near me. He is a great judge of character and very food motivated—unless something particularly smelly comes around!
Every day I tell my boyfriend just how much I love Oghren. I have always had dogs as a child, but nothing compares to the feeling of love I have for my nine-year-old grandpa dog.
Thank you for allowing me the chance to fall in love with a soul as beautiful as Oghren. He is the most special boy I have ever known."
Thank you, Adi, for adopting a senior dog and for giving Oghren the best home he could possibly have for his retirement years. We can see just how grateful he is to you for choosing him. The progress already made in his anxiety and reactivity is nothing short of wonderful and it is all thanks to you and your commitment to him.
Have you adopted an animal from the BC SPCA and want to share your joy with others? Submit your adoption story!
Resources for dog guardians
How do I welcome a new dog home?
Tips for 5 common dog training challenges