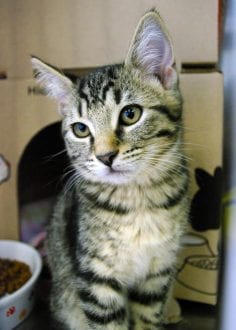 Mika was an adorable young kitten full of personality when she came in to the BC SPCA Kamloops Branch at only two months old along with the rest of her littermates in August 2014.
Mika may very well have been the most energetic kitten out of her litter, and she sure didn't slow down once she found a home to call her own.
When Tracy and her family came to the shelter that same summer, they knew Mika would be the perfect cat for them.
Tracy has written to us almost four years later to let us know how Mika's antics bring joy into their lives:
We adopted Mika in August 2014 as a young kitten. We often now also call her Meekerbeekers.
Mika is still very nutty and playful, and she makes us smile every day. She loves to jump on top of the closet door and loves to snuggle under the blankets.

Mika has been such a wonderful addition to our family as she is very affectionate and gives lots of kisses.
We made a move in the last six months, and Mika did struggle with the stress of the move. Now, she has settled into her surroundings and rips around playfully with her toys. I think she enjoys her crazy high-speed peel outs and skids on the hardwood floors as much as we enjoy watching her!
We love to hear about the crazy playful moments that Mika has, and that she loves to get snuggly with her family. Thank you for choosing adoption as your first option. We are happy Mika has found a home where her tricks can entertain her people and make them love her even more.