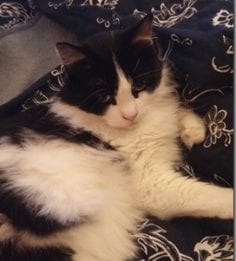 Lily was seven years old when she came under the care of the BC SPCA Abbotsford Branch on Mar. 2, 2016. We knew she had a goofy personality right from the beginning.
She was always very friendly to everyone and would play all day if she could. She loved to give out frequent cuddles and no one could resist her soothing touch.
Lily also liked to talk so she needed a family who would carry on the conversation and keep her company.
When she was alone, she was just as content with her toys. As a mature kitty, she was quite low maintenance and felt comfortable easily.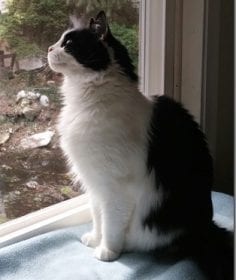 On Mar. 13, 2016, Lily was adopted by her new forever family. They sent us this message to let us know how she has been adjusting to her new surroundings:
Just wanted to take a moment and let you all know that Lily is doing fabulous!
I adopted her from the Abbotsford shelter on Mar. 13, 2016 after I saw her profile on the SPCA Facebook page.
She is such an incredibly loving kitty who is happy to just be a lap cat or sleep by my side (or ON me) all night.
Lily is very helpful with my crosswords as well. Don't be fooled as she's silly and playful with her favourite toy, Snakey, and loves to attack the moving blankets when I make the bed.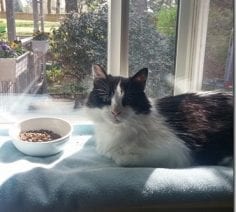 During the day she will often sit by the window and watch the birds and squirrels make their way to the pond. It took her a little while to become accustomed to her new food but she now devours her Acana, Pacifica being her fave.
I can't believe my fortune in finding this lovely well-mannered seven-year-old young kitty, she seems so content and at peace with her new world.  I pray that she'll be with me for many more years to come.
Thank you for all that you do at the shelters.
It sounds like Lily has found a forever home where she can play and keep herself busy with plenty of things to do and watch. Thank you so much for giving her the forever family that she deserves and making adoption your first option.