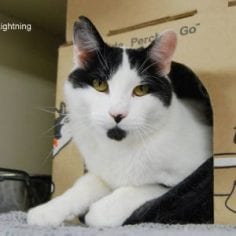 Lightning was originally found by his previous guardians as a stray. After his temporary guardians couldn't find a new home for him, they brought the two-year-old kitty to the BC SPCA Kamloops Branch in September 2015.
He was soon moved to the BC SPCA Victoria Branch where we would learn what a happy-go-lucky kitty he was.
No matter where Lightning was at the shelter, he was always very calm and relaxed. He loved to see new faces and was always eager to play with anyone who spent time with him. He was very affectionate and would drool with happiness when he had his cheeks rubbed.
Lightning was looking for a family just as social and affectionate as he was, with people or cats who could spend a lot of quality time with him.
About a month later, his new guardians found him and brought him back to his new forever home. They sent us this update: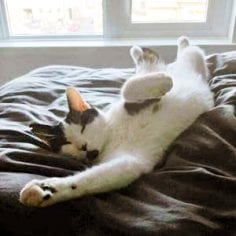 We adopted Paul (formerly Lightning) from the Victoria SPCA over a year ago and he has been the best cat we could have hoped for.
He was a bit scared and shy when he first came home but within hours he came out to explore from under the bed and came to rest by our feet.
His personality has grown and changed daily and he has become a very cuddly, silly, and fun cat.
He loves to talk to us and have many cat naps on our laps. His favorite toy is his maze of cat tunnels. He loves playing hide and seek. He is very fun to play with and will roll around waiting for his belly rubs.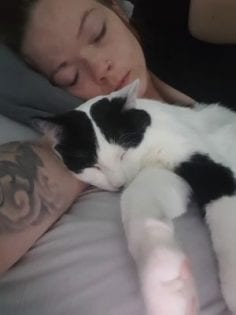 He is very gentle when he plays with his brother, Beowulf, who is a Netherland dwarf bunny, and they like to run around the house exploring together.
Paul has been such a wonderful addition to our home. He makes us laugh daily and has completely won our hearts over.
We are so happy to have him in our life.
Thank you to the Victoria SPCA for caring for all animals and helping us find Paul!
That's fantastic to hear how quickly Paul settled into his new life. We are very happy to hear he has such a loving family and can spend his time exploring the house with his new sibling.
Thank you so much for giving Paul his forever home and choosing adoption as your first option.