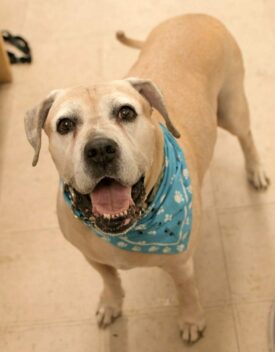 When her owner passed away, dear Kya was eventually retrieved by Animal Control Services and brought to the BC SPCA Vernon Community Animal Centre on October 18, 2021.
We can only imagine how this ten-year-old's world had been turned upside down at the sudden loss of her person, and it showed in her sadness and fear-based aggression when she arrived at our shelter. Staff worked with her and found that under that tough exterior there was a "goofy and fun girl." All the same, she was going to need lots of time and a calm, quiet adult household with humans who were willing to work with her until she felt safe enough to let down her guard.
As a senior animal whose confidence had understandably been shaken, she wasn't the first choice for most of our potential adopters. But there were two very big hearts out there who read her story and knew they needed to give this Pit Bull Terrier a second chance. They weren't about to give up on her.
On November 22, 2021, Kya began her new life when she went home with these wonderful people and her new best buddy, their other fur baby. Read on to hear from Kya's new family how her story turned from heartbreaking to heartwarming:
"My husband came across a profile on the BC SPCA Vernon website so we called to start the process of adoption. We were told at this time "no" as we have a six-year-old dog already and Kya was showing some signs of aggression towards other dogs.
We couldn't get Kya out of our minds so we called again in about a week or so to see how she was doing. We told the staff that we would be willing to work with her issues so they said it was worth a try. We made an appointment to meet her.
Staff said Kya didn't show well due to her barking and growling but we took her for a walk with staff and then sat with her in her area and spent some time with her. When she got spooked, she lay between us. For a dog that was said to be not comfy with males and not showing well she let us in and even licked us a lot. We fell in love that day.
At the meet and greet with our dog Harley Quinn, Kya growled and snapped. Harley Quinn took it like a champ and didn't respond. At the staff's suggestion, we removed Kya's leash and took the dogs to the play area. When the ball came out, they slowly became friends.
After seeing no other aggression towards our dog we decided that we would adopt Kya and bring her home for good. We have had her a full week now we have taken her to pet stores in our area to socialize with people and other dogs. She has progressed in leaps and bounds, now wanting to be close to Harley Quinn and us. Kya has gotten two new sweaters, one for Christmas and one for chilly days. 
While she still has some issues with barking and growling at new people it has gotten a lot better. Even today, while walking by a special needs gentleman, she didn't bark or growl but instead approached him for pets. She also did really well when we walked by the kids getting out of school the other day.
When we came across her profile we found out she had been with her deceased owner for an undisclosed amount of time before coming into the care of the BC SPCA and that alone broke our hearts for her. We figure this is why she was acting the way she was. We keep telling her she's retired and that we have her back now and that she has no need to be scared anymore. 
So our advice to anyone seeking to add an animal to their home and lives is to understand that sometimes if an animal is misbehaving it's because they are scared and confused and not to give up on them. If you're willing to put the time and effort into these animals, they may become your best friend. Kya is a totally different dog than she was the first day we met her and she will always be part of our family."
What loving hearts you have shown Kya! No wonder she is settling in so nicely. We couldn't be happier with how your story is evolving and know it will inspire others to look past the surface to the precious spirit that lies within each companion animal.
It's a matter of finding just the right human-animal match. And this is a perfect case in point. Thank you so much for choosing to adopt Kya and give her the ideal retirement home. May the love continue to flow in your happy household.
Have you adopted an animal from the BC SPCA and want to share your joy with others? Submit your adoption story!