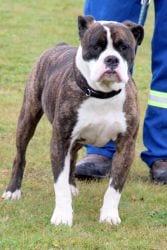 Hercules was surrendered into the care of the BC SPCA North Peace Branch in September 2010 when his owners were moving and unable to take him with them. He was a very handsome American bulldog who was only about six years old at the time.
A sweet boy who just needed a stable home environment, Hercules was lucky enough to find exactly just that in a woman who had a carries a fondness for bullies. His new mum found time to write us a little bit about how Hercules, now Sherman, has settled into his new life.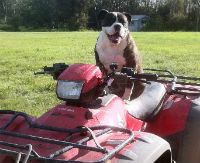 A friend of mine told me about a 6 year old English bulldog that was surrendered to our local SPCA. I have a special fondness for English bullies, as mine is now 9 years old, so I immediately went down to the local SPCA branch with full intentions of fitting this little guy into our family.
As I looked into his cage, I immediately noticed that this was no English bully, but rather a skinny American bulldog of sorts. My heart sank but something made me stay and want to know more about this particular pooch. I heard that he was indeed 6 years old and that he was surrendered because apparently the new girlfriend thought he was mean, coupled with some relocation issues.
Hhhhmmm. Did I really want to subject my two lovelies at home to a potentially vicious dog? And was I up for the challenge? One of the ladies at the SPCA suggested that I bring my two dogs down and introduce them to see what happens. I returned a half hour later with my dogs in tow. We went into an outdoor enclosure and Hercules was brought in. Then… nothing happened. Nothing. They ignored each other. They gave each other a quick sniff and then went on about their business. So the decision was made to bring Hercules home and see what happens.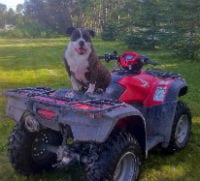 That was a year and a half ago, and all I can say is that my life would not have been complete without him. He is so filled with joy and wonder about what each new day will bring. He is the greatest foot warmer on the planet, and has a heart of gold. He is perfectly mannered, oh and his name is Sherman.
We decided to immediately change his name to signal a fresh start to which he has readily accepted. He has two brothers and lives on an acreage where he gets lots of exercise and companionship. He still is not fond of his trips to the vet, but thankfully they have been few and far between, and our vet doesn't take it personally.
I write this with the sincere hopes that others will consider adopting an older dog. Puppies are all cute and cuddly but an older dog seems to know that you have saved them, and are eternally grateful for that opportunity. As well, older dogs generally know basic commands along with house etiquette. No chewed up wires, remotes, etc. here!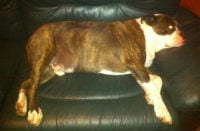 Sherman was 6 years old when he came into our lives and I cannot put into words just how much love he has brought into our lives. I couldn't imagine life without him.
Sherman's alleged prior history could very well have been off-putting to many people, including myself. To say that I had no concerns in the very beginning would be a lie. I am SO grateful that he was able to have opportunity to prove that he is nowhere close to the type of dog that he was portrayed to be.
I would hope that Sherman's story would encourage others to take a chance on a dog that may not be exactly what they initially had envisioned. I went to the SPCA that day to adopt a cute little English bulldog, and what I came home with was this scrawny, goofy looking American bulldog mix with a bad rap. I couldn't be more thankful that I gave him a chance, I couldn't be happier.
We cannot even begin to express our heartfelt gratitude to Sherman's mum and animal friends for welcoming him so whole heartedly into their home. Thank you for making adoption your first option and for brightening up Sherman's future.