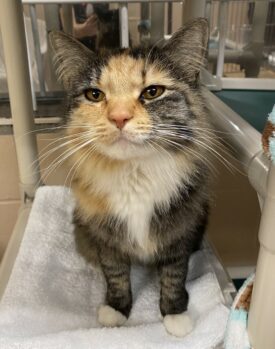 When Freya was found as a stray and came into our care at the BC SPCA Kelowna Community Animal Centre in November 2022, she held nothing back with her personality.
A strong-minded kitty who knew what she wanted, Freya also had a very soft side to her—not to mention her stunning beauty. We knew it wouldn't be long before the right guardian came along and scooped her up.
Just a couple of weeks into Freya's stay at the shelter, Avril and her spouse felt ready to open their hearts and home to another animal in need after losing their much-loved cat of 22 years.
Avril felt the spark ignite when she met Freya and has now shared an update:
"My spouse and I lost our beloved cat in the summer of 2022, at the age of 22. By December, we felt ready to bring a new animal into our home so we began watching the adoption listings and inquiring about animals.
We quickly discovered that many cats and kittens needed to be with another pet for their own well-being. Since I was only looking to adopt one animal, I was looking for a pet that needed to be the sole animal in the home.
When we saw the listing for Freya, a beautiful three-year-old medium-hair Torbie who did not get along with other cats but loved people, we immediately sent an inquiry. I heard back from the BC SPCA the following day and went down to meet her.
Freya was so sweet and friendly that I decided right away I wanted to bring her home with me. The staff at the BC SPCA Kelowna Community Animal Centre were very helpful and easy to work with through the adoption. They shared as much information as they had about her.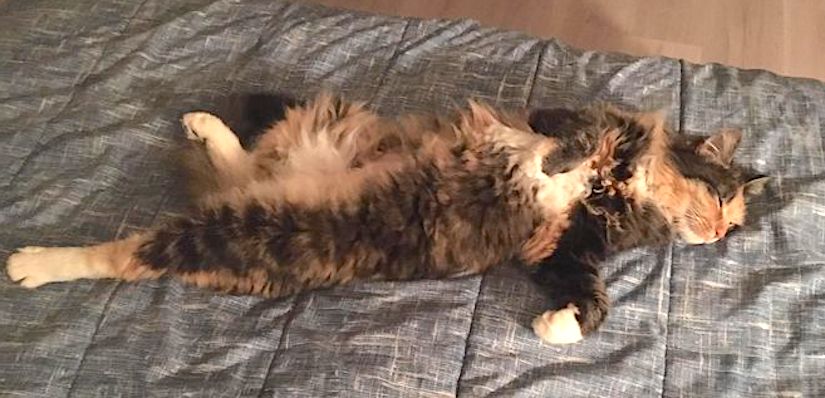 Freya has been settling into our home over the past month. She is a very pretty kitty and she enjoys affection—on her own terms. She will definitely let us know if she has had enough petting. She loves her new toys, especially the small fabric balls that she can grab in her paws.
Speaking of paws, she has giant mitts that she uses to chase things. Holding hands is one of her favourite things—but watch out for the claws!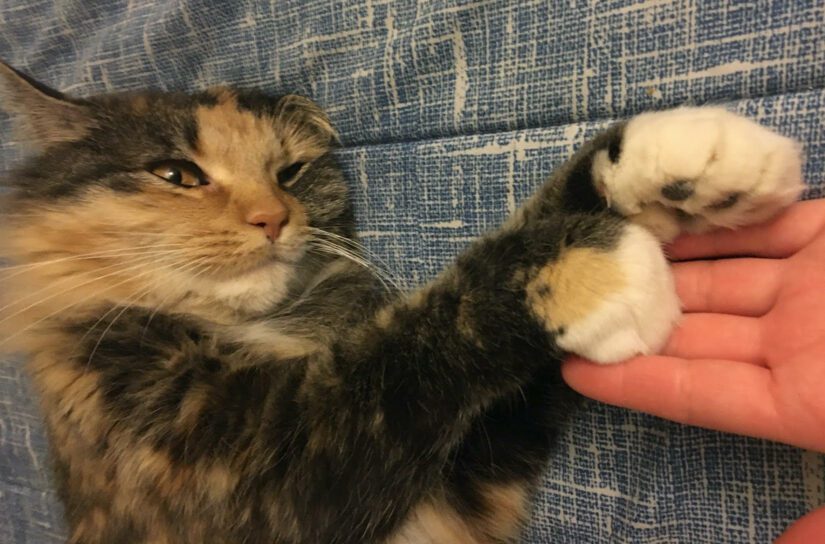 Freya has two new cat trees and loves to curl up inside the boxes after her breakfast. She also enjoys napping on top of the tree while she watches the great outdoors. She also enjoys 'Cat TV' on YouTube, particularly when there are squirrels.
With the cold weather, we are so thankful that a kind person rescued our sweet kitty and brought her to the BC SPCA. She has become a member of our little family."
Thank you, Avril, to you and your spouse for adopting Freya. We can see just how well she is settling into her new life and home. We love how she has already made herself the centre of your world. Thank you for seeking out Freya and for embracing her sassy purrsonality. We wish you many more happy years together with much more hand-holding to come.
Have you adopted an animal from the BC SPCA and want to share your joy with others? Submit your adoption story!
Resources for cat guardians
How do I know if my cat loves me?