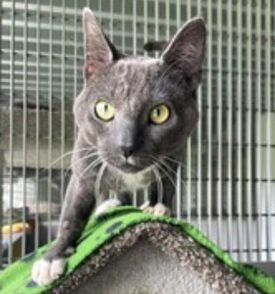 On April 25, 2022, a good Samaritan called in a stray kitty who had been hanging around an elementary school. So emaciated he looked like a very old cat, the veterinarian estimated he was only about a year old. He was literally starving.
Life had not been easy for poor Cheerio and during the time he had been in the wild, he had probably fathered a number of homeless kitties who would likely face the same fate.
But this particular stray would be one of the few lucky ones. Immediately upon arriving at the BC SPCA Alberni-Clayoquot Community Animal Centre, we put Cheerio on a careful rehydration and slow introduction of food.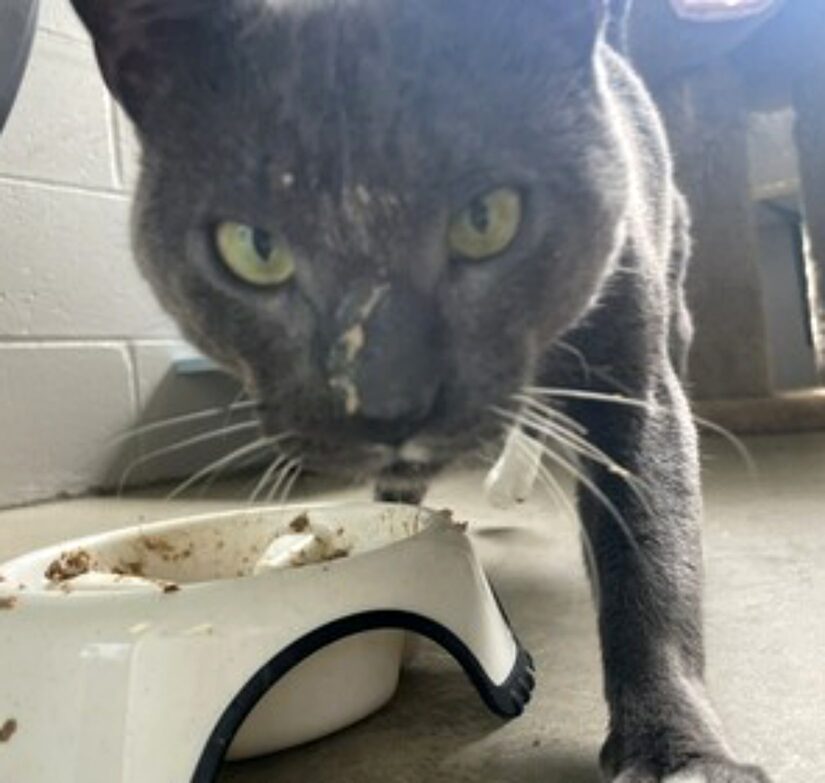 He had a friendly, happy spirit, so when he was healthy enough to go to a new, indoor life in a loving forever home, Cheerio was going to make a wonderful companion. He left the BC SPCA Nanaimo Community Animal Centre on July 10, 2022 to began his new life with the family who writes us here:
"Cheerio has shown to be a true member of the family! Since the first day home, he has followed us around and demanded attention with his adorable (but noisy!) meows.
He is always rubbing his face against our hands and legs as well as furniture. He always comes running to greet us when a door is opened. Meanwhile, his tail doesn't stop quivering with happiness.
For the first couple nights he found it amusing to yowl as loudly as possible at 4 a.m., but he has since settled down and doesn't yell as much at night or when we leave the house.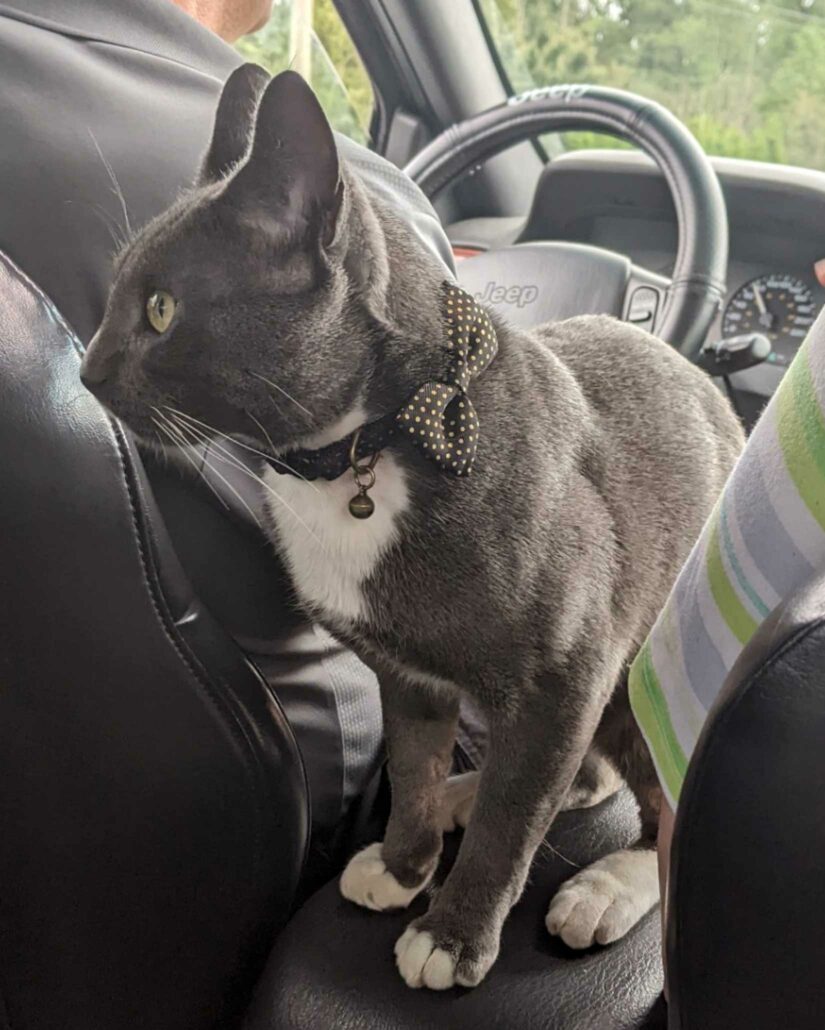 Some of our favourite quirks include the rumbles he makes when going up and down stairs and the biscuits he kneads in our laps. He loves 'playing hockey' with his favourite mouse toy and tearing around the house chasing after it.
He has proven to be perfectly capable of entertaining himself, but he still protests when we aren't watching him 'hunt'. We are working on his access to higher places, as he enjoys jumping onto the kitchen counter and dining table and giving us innocent looks when we tell him to get down.
Friends often underestimate the mess Cheerio makes when he dips his paws into his food. We swear, half of his meal ends up on the floor surrounding his bowl! We've resorted to using a crock pot to block the garbage cabinet as he has shown a special interest in muffins and will nudge open the door to knock over the garbage can and get to a tasty old muffin wrapper.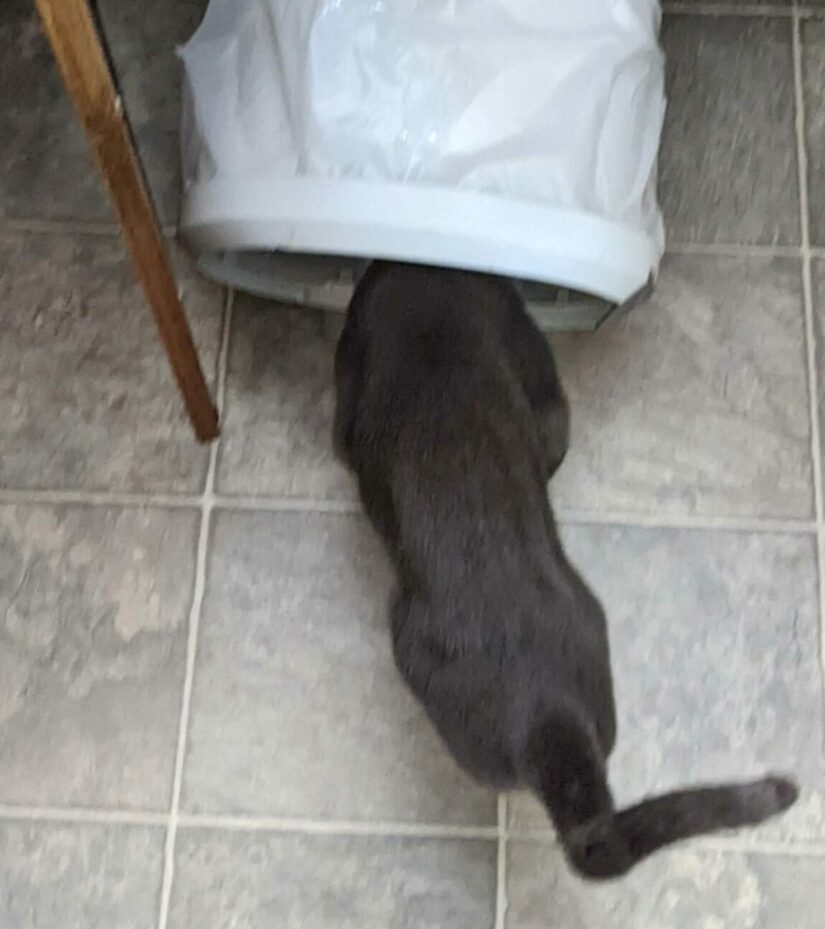 He loves making a mess of his meal and proceeding to beg for human food he cannot have. Though his dining area looks like that of a toddler, his litter box use is pristine and he hasn't had any accidents, however, he does like to spray his litter everywhere.
He's a messy, noisy boy but we love him for it. He's the sweetest angel and hasn't hissed, scratched or bitten us, he didn't even flinch while at the vet. The scratches we have are from passionate biscuit making and Cheerio using us as human jungle gyms.
Thank you to the BC SPCA Nanaimo for making the adoption process simple and enjoyable. We're very thankful to have our honey nut Cheerio in our lives.
 Sonny"
We are so grateful that Cheerio found a family who loves him so much. The transformation from desperate struggle to joyous comfort that Cheerio has undergone is so obvious in these photos.
Thank you for choosing to adopt and giving your "honey nut" the life all companion animals deserve.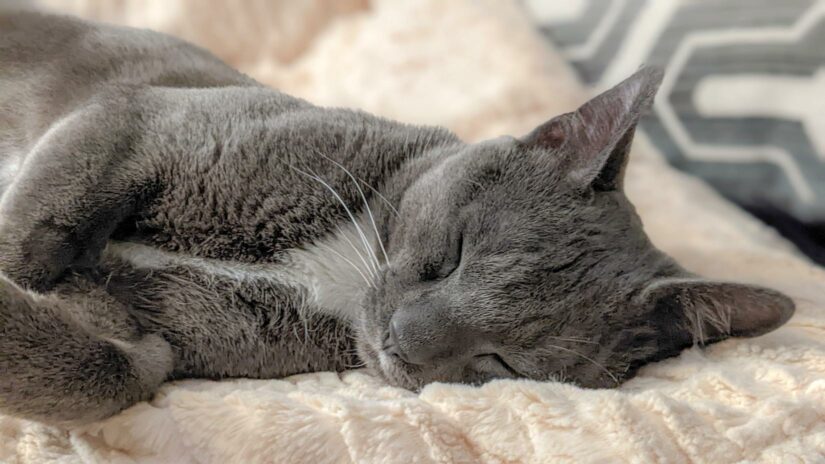 Have you adopted an animal from the BC SPCA and want to share your joy with others? Submit your adoption story!
Resources for cat guardians
How do I know if my cat loves me?