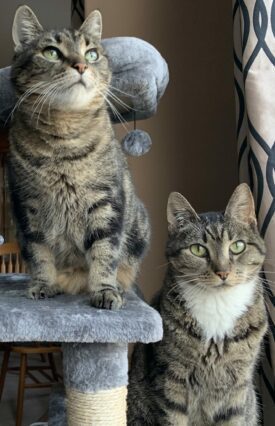 When senior animals come into our care, we understand just how important it is to find them the right retirement home. So, when the sweet senior bonded pair Boots and Maisie arrived at the BC SPCA Vancouver Community Animal Centre, we knew exactly who to call.
Once Elizabeth and her husband met Boots and Maisie, they instantly fell in love with the duo. It has now been a year and a half since the adoption, and the love is stronger than ever:
"We have always had cats during our 30 years of marriage and had lost our previous cat Fred in May of 2020.
The house felt very empty, so we decided to look for some new furry family members to adopt and bring into our fold. Due to Covid and the incredible uptake of adoptions, finding kitties was near impossible, so we had to put our names on waiting lists.
Then, one day in October 2020, we got the call from the BC SPCA Vancouver Community Animal Centre that they had two senior sister kitties who needed a home—Boots (aka Booboo) and Miss Maisie. Adopting senior cats has always been a passion of mine, because they need safe, loving homes to spend their retirement years in and we could provide that for them.
We fell head over heels in love with Boots and Maisie from the moment we met them. They were the sweetest, most loving cats we could have hoped to meet.
We were so smitten that we agreed to take them on the spot. After the paperwork was settled, they came home with us. It has been nothing but joy since that moment.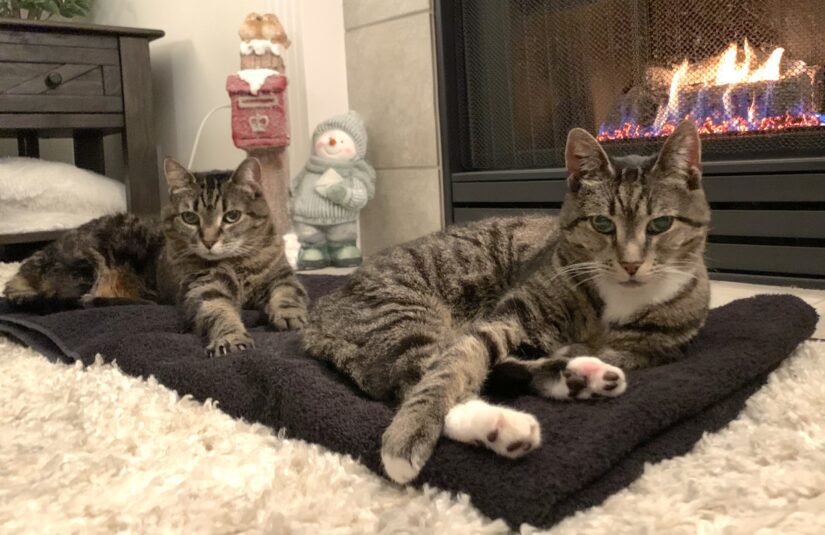 These old girls (they will be 16 in a couple of months) are as spry as kittens in their waking moments. They love to chase each other around the house and are prone to Zoomies just before bedtime.
They do absolutely everything together. Booboo sleeps with her head tucked into Maisie's belly every day. We discovered shortly after adopting Boots that she is deaf and relies on Maisie for cues, security and comfort.
They both love to snuggle with us and give lots of kisses and head bumps. They both love to have their bellies rubbed, and it is not unusual to have a cat on each side of one of us with two belly rubs happening at the same time.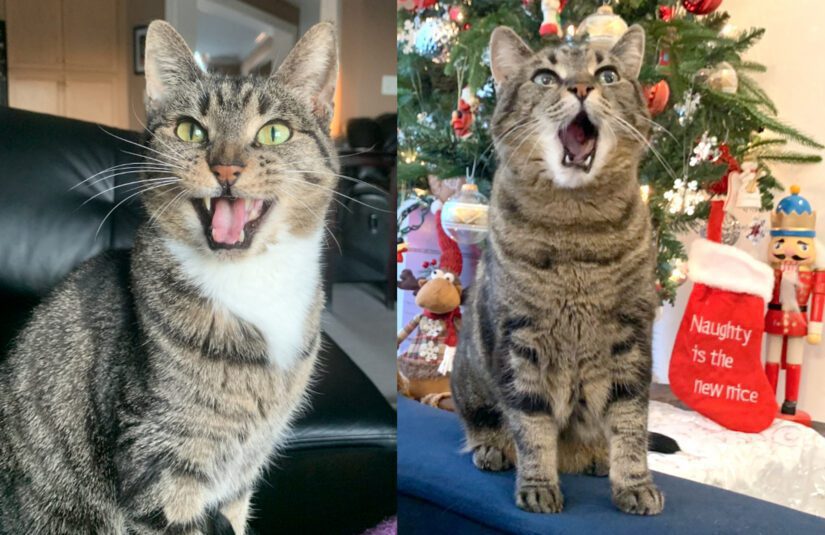 Boots and Maisie have brought so much joy into our lives, especially during the quiet times of the pandemic. Adopting an animal from the BC SPCA or any shelter is one of the most rewarding things a person can do.
The unconditional love of an animal is a reward that just keeps on giving."
Thank you, Elizabeth, to you both for adopting this charming pair of senior felines. We are thrilled that Boots and Maisie get to live out their golden years together in such a loving environment. They certainly look so grateful that you chose them. We love hearing about their playful antics and simultaneous belly rub obsession. We wish you many more happy memories to be made together.
Have you adopted an animal from the BC SPCA and want to share your joy with others? Submit your adoption story!
Resources for cat guardians
How do I know if my cat loves me?