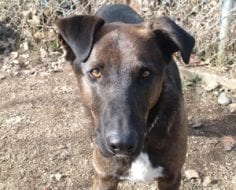 Siblings Bella and Jake were surrendered to the
BC SPCA Vernon & District Branch on March 9, 2016. Their former guardians were sadly facing housing difficulties and were no longer able to care for two-year-old Bella and Jake. Bella is a sweet girl who loves attention and belly rubs. Jake is a tad shy, but is very affectionate, silly, and playful once he knows people.
Both Bella and Jake would need more socialization, formal obedience training, and practice walking on the leash in their new home. They would need dedicated new guardians ready to give them plenty of training and love, and also to manage Bella's long-term thyroid issue. On top of this, Bella and Jake are very bonded, so we wanted them to stay together and find the same home. We knew it was a tall order, but Bella and Jake didn't have to wait long before they found their new forever home with Dale and Tracey who have shared this update with us: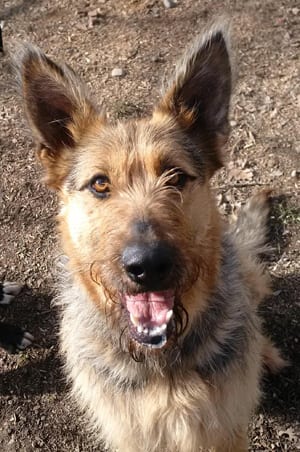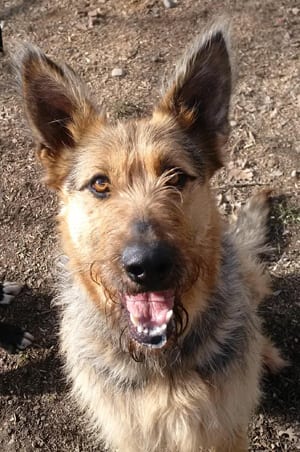 Bella and Jake seem to be settling in quite well. So much so that they now spend time inside relaxing with our cats. They have accepted that two cats live with us, so are on good behaviour while indoors. Outside is a bit different. Though they are getting more accepting, their prey drive kicks in when they see the cats, Dijon or Saffron, running about. Slowly, even outdoors, they are getting more accepting with each day.
Bella and Jake have a good relationship with Duke, a large Mastiff often in our care. It's fun to see the three dogs playing and walking the acreage together. It's a busy time here as we are in the middle of completing subjects on a property that we have bought. Eleven acres, with both forest and pasture.  We think the dogs will like their new acreage. Once we move soon and settle into our routines again, we will explore some classes on dog management. Though Bella and Jake are quite well behaved, we need to pay attention to habits like jumping up on us at our arrival, Bella's playful nips, etc. All in all, they have been very well behaved.
Thank you so much for making adoption your first option and bringing Bella and Jake into your lives. We are so happy that Bella and Jake found their new home together, and think they are the luckiest dogs to be moving to an acreage with forest and pasture. We wish you all the very best with the move and settling into your new home together.