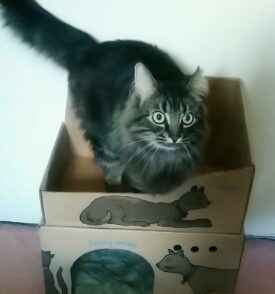 Sometimes, all it takes for our new feline friends to come out of their shell is to feel comfort and relief when they enter their new home.
In May 2022, Kate and Graham felt the time was right to welcome a cat into their lives. Fortunately, Badger had arrived at the BC SPCA Surrey Education & Adoption Centre all the way from Bella Bella. She was ready for her new family as they were for her.
Upon their first meet and greet, Badger claimed Kate's lap as her own—and the rest is history.
A few days into adopting Badger, Kate shared an update with us:
"My husband, Graham, and I had decided that it would be nice to have a cat in the house. I started looking at the BC SPCA website for suitable candidates.
I applied to meet two cats: one in Vancouver and one in Surrey. When I got a phone call from the BC SPCA Surrey Education & Adoption Centre just two days after my application, I was surprised. I hadn't expected things to move so quickly!
The staff encouraged us to go meet Badger (as she was known then) as soon as possible.
So, Graham and I drove to Surrey. I was impressed by the kindness of the people who work at the BC SPCA. Badger was there and ready to meet us. We didn't want to be pushy with her, but she let us stroke her and, after a few minutes, let me pick her up.
I sat down on the office chair with Badger on my lap and she started purring. Instantly compatible.
We drove home with Badger in the Hide, Perch & Go box and then set the box down in our bedroom and opened it up. We were expecting Badger to hide in the box or under the bed, but she immediately started exploring our apartment and demanding attention. That was two days ago.

Now, she now sleeps on our bed, sits on the windowsills and plays with her toys. She is a bit nervous about unfamiliar house noises, but she is slowly getting to know them. She is a delightful little animal and has amazing markings on her face and body. 
Graham and I weren't set on the name Badger, so we tried to find something more suitable. Since Badger had come from Bella Bella, we decided to call her Bella. She is beautiful, so the name is doubly appropriate.
She responds to her new name and gets a little bit cheekier every day. I'm so happy we were able to give Bella a home. She has enhanced our lives immeasurably."
Thank you, Kate and Graham, for adopting Bella and giving her such a loving forever home. It warms our hearts to hear how quickly she has opened up and loves her new home already. It sounds like she fits right in and we love that she is showing off her cheeky purrsonality. We wish you many more happy years together as a family.
Have you adopted an animal from the BC SPCA and want to share your joy with others? Submit your adoption story!
Resources for cat guardians
How do I know if my cat loves me?