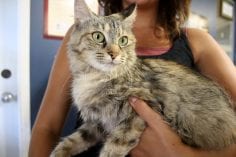 It's a wonderful experience when our furry companions grow up alongside us. Originally found as a stray and brought in to the BC SPCA Nelson Branch in 2012, Annie was a young cat full of life and cuddles.
We knew that she would make the perfect partner in crime to her adopter, Taylor.
It's no surprise to us that six years later, Annie continues to make Taylor smile and laugh, and share all of her affection with her human.
Taylor has written to us to share some the love Annie has given her: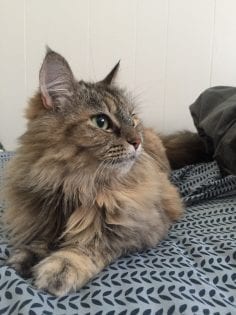 I adopted Annie from the BC SPCA Nelson Branch back in 2012. She was just over one year old at the time. When I first met her, she was very timid but also very loving and kind.
Today, Annie greets me every time I come home with purrs and still amazes me with her cuteness every single day. She is my rock and has been through so much with me.
She loves to sleep on my chest and in my knee crevice every night and kneads on me when I am feeling down or sick. She has the fluffiest tail that I have ever seen. Her tail is so fluffy that it's wider than her body.
Annie is turning seven this year and is still as playful as a kitten, and has many names, including Annabelle, Banana, Boo and Noon. I can't wait to see what the coming years will bring!
Thank you, Taylor, for choosing adoption as your first option and for giving Annie the forever home she truly deserves. We love hearing happy "tails" such as yours and Annie's.