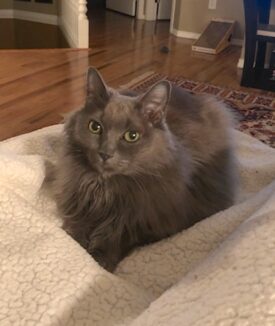 For many of us, when we have spent such a big portion of our lives with a furry friend by our side, we can't help but feel a bit of a void when they're gone.
When Judy's old cat crossed the rainbow bridge after over two decades, she wanted to give herself some time to heal from losing her companion.
Once she felt it was time to meet a new feline, it wasn't long before she met Smokey at the BC SPCA Vernon Community Animal Centre in October 2021. It was love at first sight.
A few months into adopting Smokey, Judy has written to us with an update:
"After my 21-year-old cat passed, I decided to wait a year before bringing another animal into my home.
My granddaughter and a friend both saw an online post for Smokey. She was 11 years old and, as I didn't want to adopt a kitten, I went to visit her—and that was it.
Smokey is sweet and quiet in nature. She was shy at first but is becoming quite social now. She loves to play and brings me her toy mice in bed at night when I am reading.
She likes to be in my lap while I'm drinking my morning coffee. Whenever I bring out her grooming mitt, she is up on my lap immediately.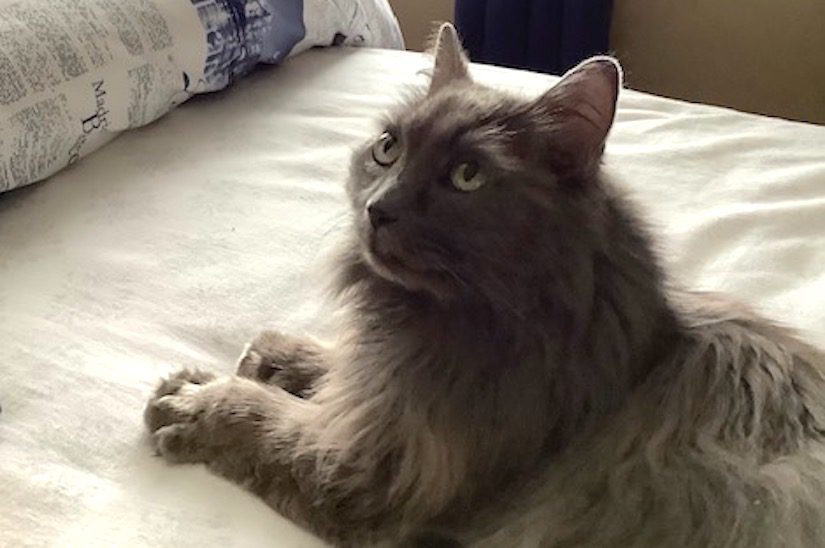 As a senior myself, I chose to adopt an older cat for a variety of reasons. At my age, I don't want to have any animal outlive me and need to be rehomed. A senior pet is also usually quite a bit calmer than a young kitten. Smokey is a lovely fit for me."
Thank you, Judy, for choosing to adopt a senior animal in need of a second chance at life. It sounds like Smokey is settling in well with her new surroundings and has certainly warmed up to you. We are so thrilled that Smokey is getting to live out her retirement years in such a loving home, which is exactly what she deserves. We wish you both many more peaceful years together.
Have you adopted an animal from the BC SPCA and want to share your joy with others? Submit your adoption story!