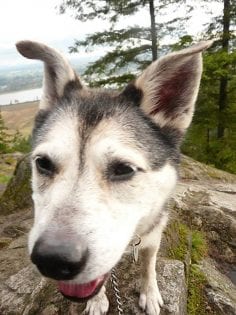 When thinking about adopting a dog, it is important to consider how big a part of your life they will be for years to come. Back in 2002, Hanna and her family walked into the BC SPCA Vernon Branch where they met Poppy.
Even though Poppy presented a few more challenges than her human family expected, they never once questioned their choice to adopt her. Poppy's family put in the work to properly socialize and train her, and reaped the rewards with a devoted addition to the family.
Sixteen years on, Hanna has written to us and would like to share her wonderful dog's memory:
When my family and I first met Poppy, the best way to describe her was a chicken with a goofy grin. While she was scared of us, it was clear that she wanted to come say hi.
Poppy had been abused as a puppy and, because of this, she was afraid of meeting new people. No one wanted to adopt her, and she had been living in a foster home. We took her home the next day.
She proved to be afraid of just about everything—mostly men, but also bridges, other dogs, the car, and being left alone. She warmed up to my mom, sister, and myself over the first few months, but would always shy away from my dad.
So it came as a surprise to us when, after a year or so, my dad became her favourite person. She would always greet him with a long and loud round of barking when he got home from work. She would run around the house, making sure everyone else knew that our dad was home. None of us ever got such a happy greeting from her.

Poppy was always active, even into her senior years. She surprised us all with her energy before and during walks, or how she loved to play with her friends (mostly younger male dogs). Up until her last days, she was full of energy.
Poppy passed away in early 2018. The house has been much more quiet. Despite the challenges we went through with Poppy, my family will always be happy that we took home that troubled young dog and gave her the life she deserved.
Thank you to you and your family, Hanna, for adopting Poppy and for giving her such a fulfilling life over the last sixteen years. We can see that she really came out of her shell and it is all thanks to you.