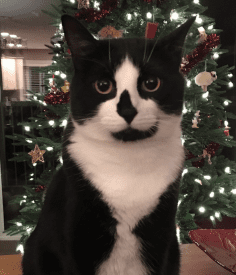 At only six weeks old, Jojo was surrendered to the BC SPCA Kamloops Branch along with his sister and two brothers. Shortly afterwards, the litter was transferred down to Vancouver Island and took shelter in the BC SPCA Victoria Branch for more exposure to potential families.
Jojo stood out from his siblings, in a few ways. He had a beautifully marked black nose, he had bright golden-green eyes and he had an unrelenting curiosity.
Tanis and her family couldn't resist Jojo's charm when they met him at the shelter one day in October 2016.
A year and a half later, Tanis has given us an update on just how curious Jojo has been:
We were told Jojo was a troublemaker. We disagree—he's just very curious and smart.
Jojo can open doors, including the glass slider to the patio, and he likes to steal kitchen utensils. When he was smaller (he's a big boy now), he liked to ride around on my shoulders.
Jojo likes to get into everything, not because he's bad, but because he doesn't want to miss out on anything fun!

Thank you, Tanis, for adopting Jojo and for giving him a life where he can explore his curiosities with no fear. We could all learn a few lessons from Jojo's approach to life—bring lightness and laughter to those you love, never be afraid to discover something new and most importantly, have fun while doing it.