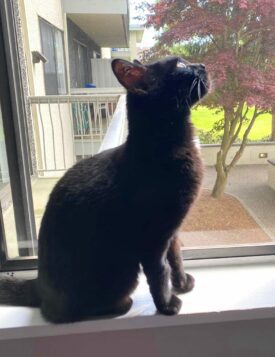 When Boo first came into our care in the spring of 2022, we knew she had so much love to give to her future guardians.
She was instantly affectionate towards us and certainly didn't hide how she felt about head scratches.
So, when Jenna and Jarryn were on the search for their very first feline friend at the BC SPCA Abbotsford Community Animal Centre, we knew Boo would be the purrfect match for them.
Sure enough, it didn't take long for Jenna to share an update on how their new pal is settling in:
"Jarryn and I adopted Boo in May of 2022. We had recently moved into our first apartment together and wanted to adopt a cat. We had been searching on the BC SPCA website for a couple weeks when we saw Boo.
Boo already had an approved adoption application, so we didn't think we would get approved for her. However, we still sent in an application because we were told we'd be contacted if her first adoption fell through, which is what ended up happening.
So, we set up a day later that week to come meet her. The moment we walked into her room, she was purring and laying in our laps. We adopted her and took her home that same day.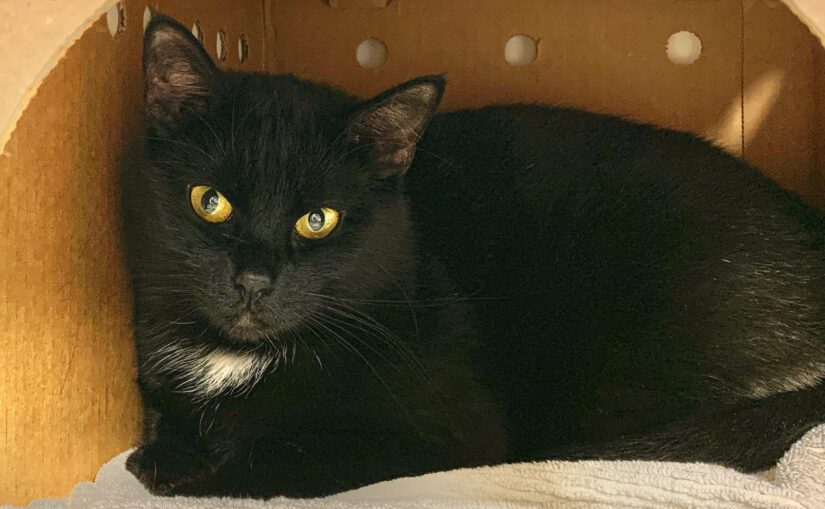 It has now been close to a month of having Boo and she is the best cat in the world. Neither of us had owned a cat before so we were inexperienced about them and adopting from the BC SPCA, but we are so glad we did.
The day we met Boo we had no idea we would be taking her home on the spot, so we had nothing prepared. The staff at the BC SPCA Abbotsford Community Animal Centre were so amazing and provided us with a litter box, litter, food, toys and beds.
As soon as we got Boo home, she began exploring all the rooms and spaces she could fit into. That night, and every night since, she has been sleeping next to us.
Boo is the most loving, affectionate cat I have ever met. She loves to fetch her toys as well as chase us around and be chased. She is very talkative and greets us at the door.
We are so lucky to have Boo in our lives and so happy we have been able to provide her with a loving home where she is absolutely spoiled."
Thank you, Jenna and Jarryn, for choosing adoption as your first option. We are thrilled to hear how well Boo immediately settled into her new home with you. It sounds like she receives just as much love and affection as she showers upon you both, and she is living out her best life. We can't wait to hear more stories about Boo as she continues to be the centre of your world for many more years to come.
Have you adopted an animal from the BC SPCA and want to share your joy with others? Submit your adoption story!
Resources for cat guardians
How do I know if my cat loves me?