WILDFIRE ALERT
Yes, I'm making a loving gift to keep animals safe from wildfires!
As wildfires threaten B.C. communities this summer, the BC SPCA is opening an Emergency Animal Centre in Kamloops and deploying our Special Constables behind evacuation lines for animal rescue. We're also monitoring the wildfire situation across B.C. and preparing to deploy additional staff and emergency resources as needed.
If you or anyone you know needs support, please contact us.

Thank you for kindly rallying to help families keep their beloved pets safe during an emergency.
As loving animal guardians are forced to flee areas threatened by fire, it can be all too easy for a terrified cat or dog to bolt - leaving their panicked guardian with no choice but to evacuate without them. This was the case for seven-year-old Tonnerre (french for Thunder).
When flames ripped through the area where his guardian was living and working, as a seasonal fruit picker, Tonnerre bolted in fear. Unable to find him, Tonnerre's owner was left searching and heartbroken, unsure if his beloved pet had survived the devastation.
After four long days surviving on his own, Tonnerre was found, but it was obvious he'd been unable to escape the fury of the flames, which had left significant burns across his back and sides.
Not knowing where to turn for help, Tonnerre's guardian immediately loaded him into his van and drove straight to family in Vancouver, who suggested that he seek help from the BC SPCA at Charlie's Pet Food Bank.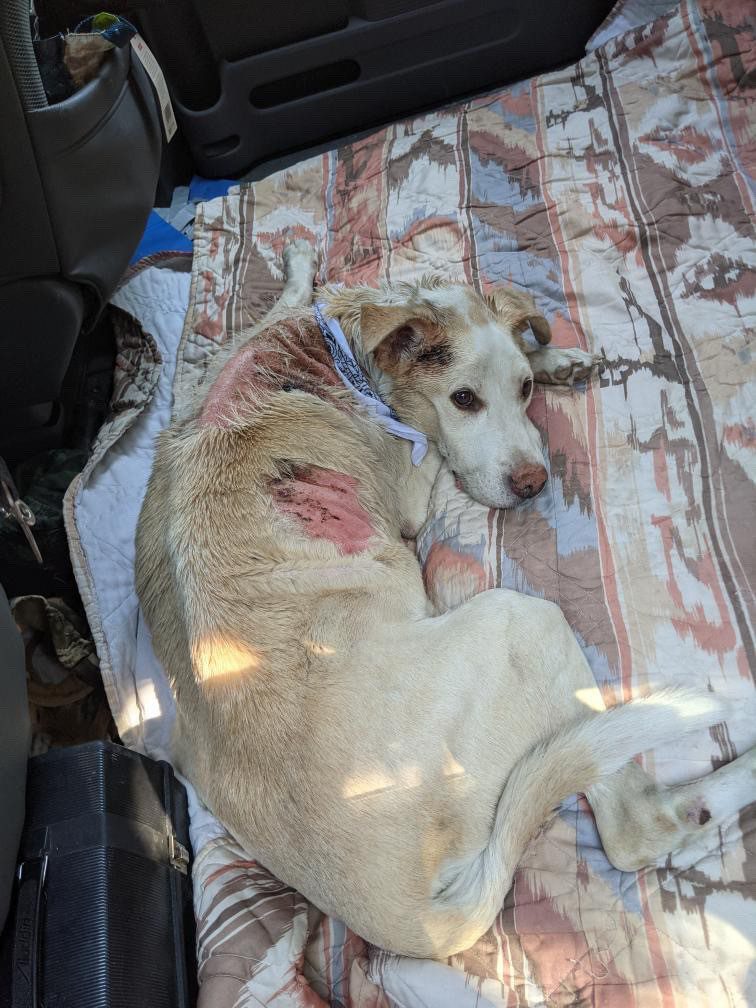 When they arrived at Charlie's, BC SPCA special constable Alex Jay, who was assisting at the food bank, saw that Tonnerre and his guardian needed help urgently and transported Tonnerre to a nearby emergency hospital for care and treatment.
Because generous animal lovers like you take action - animals like Tonnerre receive the treatment they desperately need and our fellow British Columbians, some who have lost everything else to these terrible fires, have a place to turn for help.
As special constable Jay shares, "[Tonnerre's] guardian was so thankful for everything that was done to help ...he became very emotional as he was talking to me, fearing that there may be many other animals like Tonnerre who had been impacted by the fires."
Jay, who has been working regularly behind the fire lines in Lytton and Kamloops, knows only too well the impact the fires have had and the very real difference that your love and support makes during a desperate time. "We've seen some heartbreaking situations, but for the most part we have been able to locate animals who are alive and safe and have been able to reunite them with their thankful families. It's a very good feeling to be able to make those reunions possible."
As we head into August and expect this brutal fire season to continue for many weeks ahead - it is you who makes these reunions possible, saves lives, and gives hope to animals and their guardians when they need is most. For every animal, like Tonnere, in need of medical treatment. For every evacuated family who cannot find pet friendly accommodation. You are the one that gives them somewhere to turn in their darkest hour.
Your gift today is truly a lifeline.