For too long poisons have been the default strategy to manage rodent problems – but thankfully both the risks of poisons and the effectiveness of alternatives are being increasingly recognized. Second-Generation anticoagulant rodenticides (SGARs), are banned for sale and use in residential (PDF) and non-essential commercial (PDF) settings in B.C. Exemptions are allowed for designated essential services and agricultural operators.
Rodenticide bait is made to smell like food to attract rodents, but its odour and flavour attracts many types of animals, putting them at risk of direct poisoning.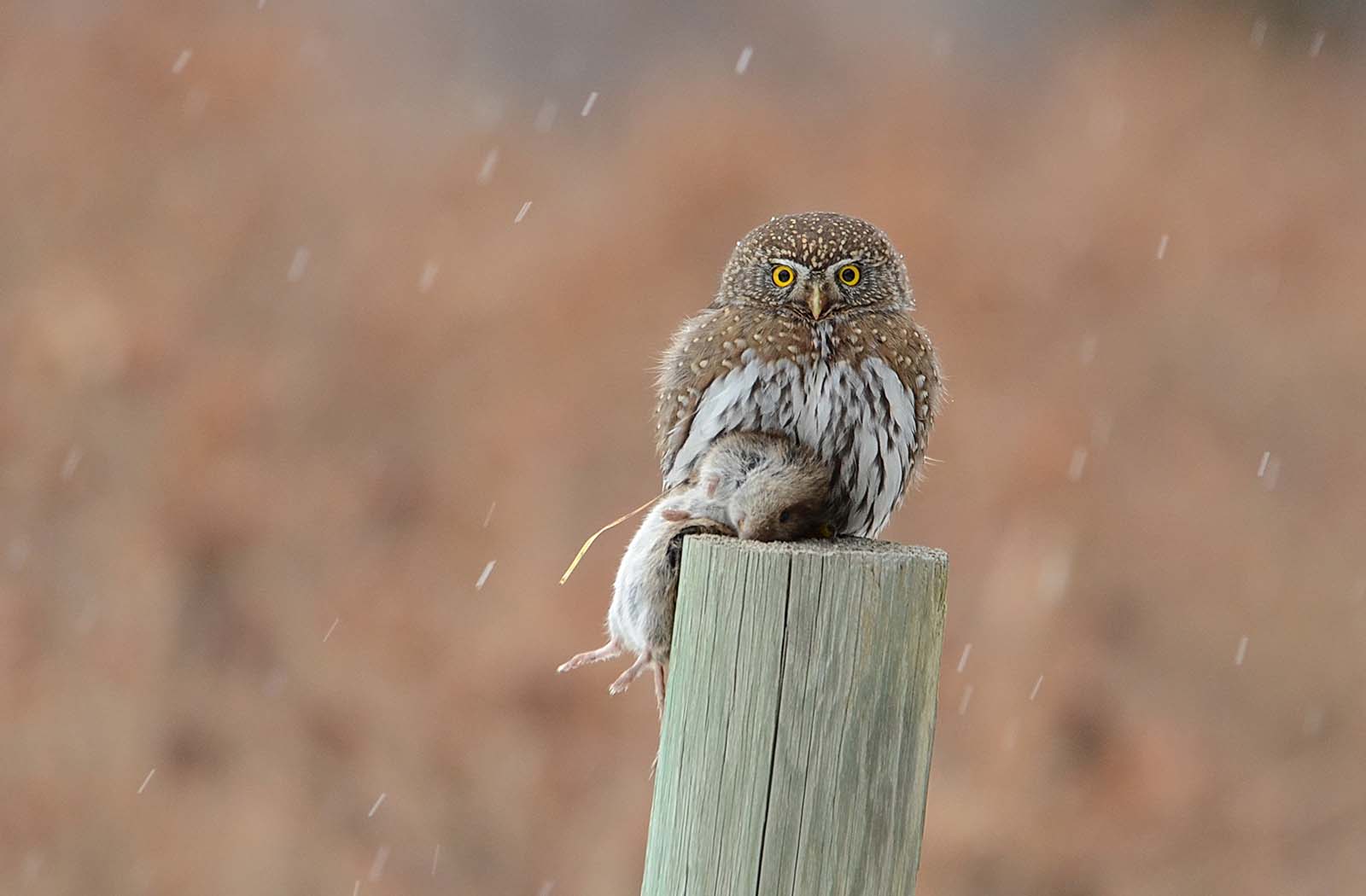 Rodent poisons or rodenticides come in different forms and fall into one of three categories: non-anticoagulants (e.g., corn cellulose, bromethalin, zinc phosphide), "First-Generation" anticoagulants (e.g., chlorophacinone, diphacinone, warfarin) or "Second-Generation" anticoagulants (e.g., brodifacoum, bromadiolone, difethialone).
Anticoagulant rodenticides are the most commonly used in Canada. These rodenticides thin the blood and prevent it from clotting, causing internal bleeding that results in a slow and painful death. Poisoned rodents, and the animals who become poisoned by eating their carcasses, slowly bleed out over hours, days or even weeks.
Rodenticides are also dangerous for owls, eagles, raccoons, cougars and even cats and dogs. Every year, hundreds of domestic and wild animals receive emergency medical care to combat the deadly effects of secondary poisoning from eating rodents killed by rodenticide, and unknown numbers of others suffer painful deaths.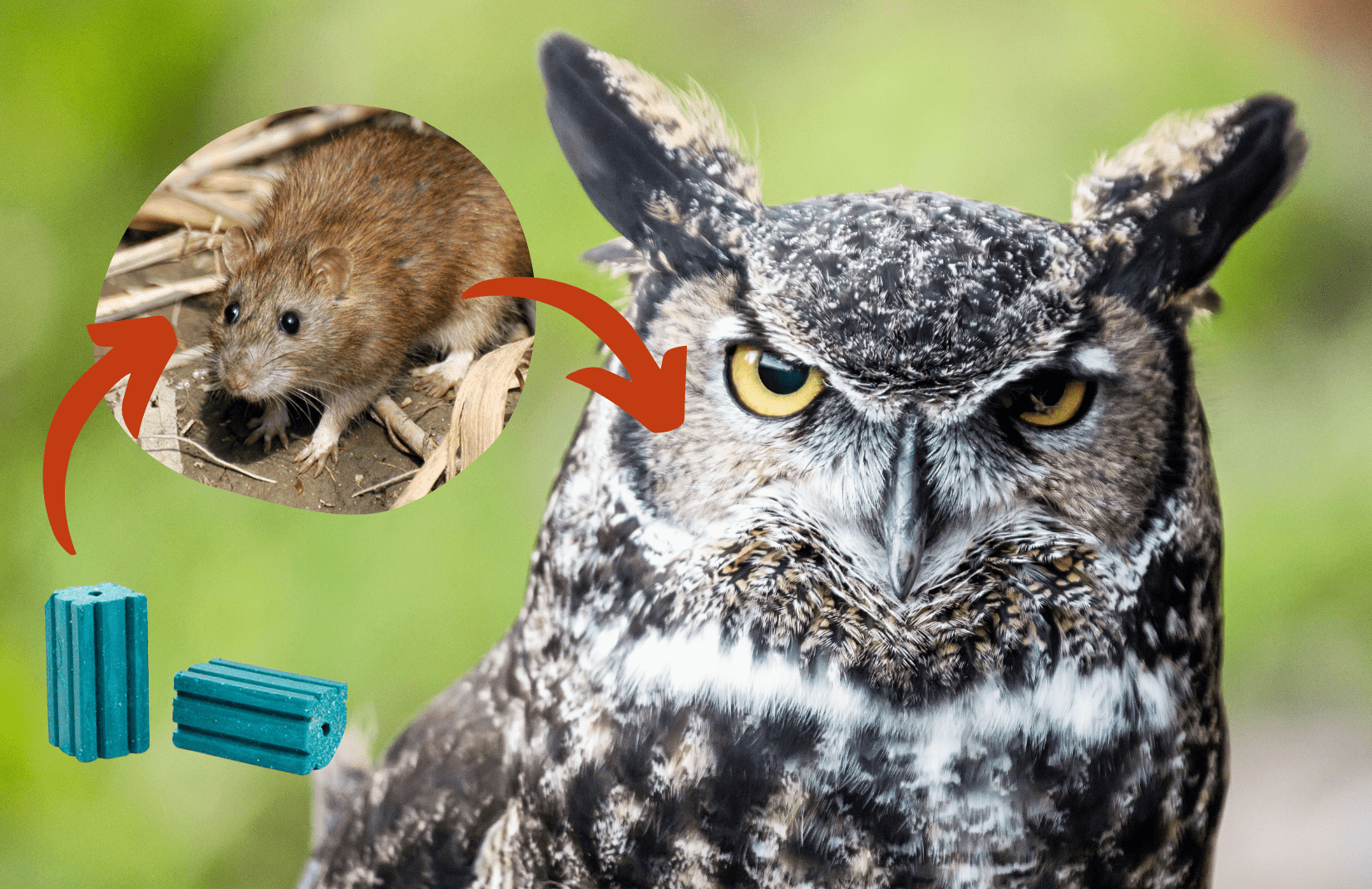 Gaps in the regulations
The policy change for SGARs is a big step forward for animal welfare – protecting wildlife from exposure to the most dangerous rodenticides, while promoting more effective and humane methods of pest control. Unfortunately, there are still a few gaps in these regulations.
First-generation anticoagulant rodenticides (FGARs) like warfarin, chlorophacinone, and diphacinone are still legal for use. These products are an older, slower-acting, and less potent product compared to SGARs – but rodents still suffer the same effects. Rodents can also develop resistance to these products. Certain non-anticoagulant rodenticides such as bromethalin, which are generally neurotoxins, are also still legal for use.
There is still a need to focus on prevention and using humane approaches to rodent management, and there are many ways to help.
How to help
You can help rodents and other wildlife by avoiding poisons and encouraging your friends, family and community to make changes as well.
Municipal resources
Even with the updated restrictions, local governments can still make permanent bylaw and policy changes to cover the gaps in the ban and protect their communities. The BC SPCA has put together resources for municipal policy changes that you can also share widely.
The BC SPCA is committed to supporting the transition from rodenticides to more humane pest control strategies, including accrediting AnimalKind companies, and is working with municipal staff to ensure there is a sustainable plan for their communities.
How your support made a difference:
2023
2022
2021
B.C. announces an 18-month ban on second-generation anticoagulant rodenticides (SGARs), to allow government staff to research and review alternatives. BC SPCA experts are consulted as part of this scientific review.
2020
Thousands of BC SPCA supporters make a pledge to say "no" to rodenticides in their municipality. As a result, more than 20 B.C. municipalities passed motions to ban all rodenticide use on all municipal-owned properties.
Did your municipality make the list?
District of North Vancouver
City of North Vancouver
District of Saanich
District of North Saanich
City of Port Moody
District of Oak Bay
City of Richmond (1-year trial for 2021)
District of Sooke
City of Victoria
District of West Vancouver
City of Colwood
City of New Westminster
Town of View Royal
City of Salmon Arm
Town of Esquimalt
Municipality of North Cowichan
City of Coquitlam
District of Central Saanich
Town of Qualicum Beach
City of Duncan
Resort Municipality of Whistler
Plus, the following municipalities had already committed to ending the use of rodenticides on municipal property before 2020:
District of Metchosin
City of Nelson
District of Highlands
Learn more about humane rodent control:
Take action for animals
Want to be the first to know about actions you can take on behalf of animals? Subscribe to receive Action Alerts to keep up to date on our animal advocacy initiatives.