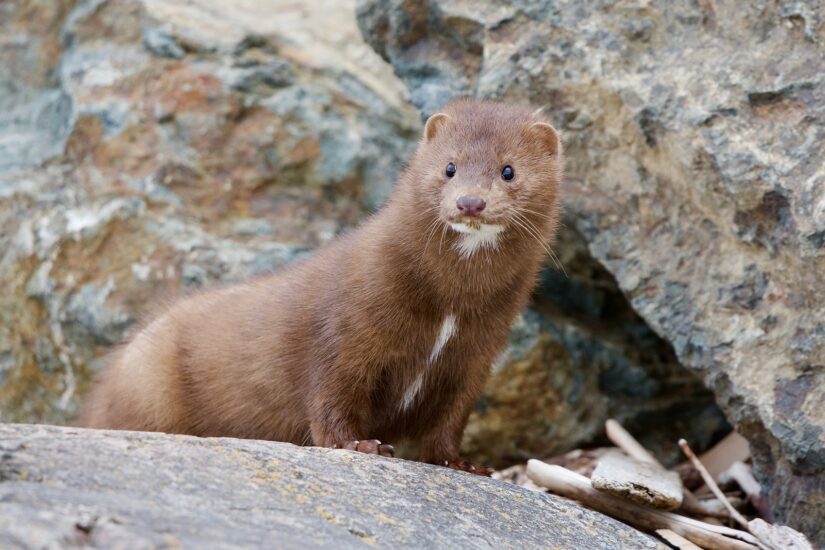 Thank you to tens of thousands of British Columbians who spoke out against mink farming in B.C. Our voices did not go unheard – in November 2021, the provincial government announced a phase-out of mink farming. Under this phase-out plan, there was an immediate ban on breeding mink. Now, we have reached another milestone date – no live mink on farms as of April 2023.
The BC SPCA and other animal advocates have long spoken out about the concerning conditions on mink farms, including cramped, barren housing for these wild animals. It was not until mink farming became an active public health risk, spreading COVID-19 among mink, farm workers, and their communities, that the government banned the practice, citing public health concerns.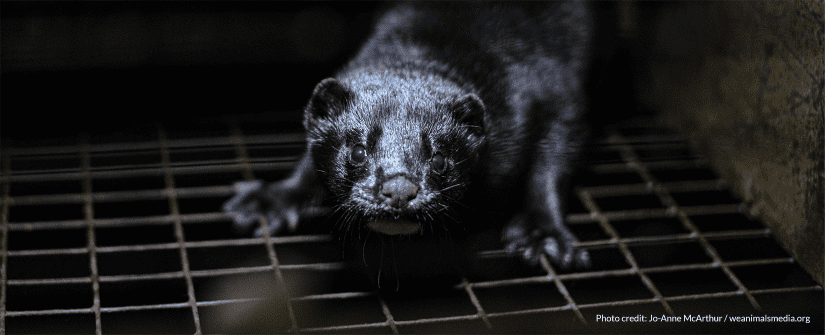 The mink industry has challenged the ban, which is still ongoing. However, many farms are already transitioning into new work. We continue to advocate for government assistance to help farmers and workers find new sources of income and careers.
Unfortunately, it is still legal to farm other wildlife for fur in B.C., such as chinchillas, nutria, and martens. In B.C., there is one fur farm raising chinchillas, which can continue to operate. We have also asked the government to assist this farm in transitioning out of the practice. No other provinces or territories in Canada have taken action to ban fur farming yet, but fur farming in Canada continues to decline.
A bill (C-247) was introduced to the House of Commons in February 2022 to prohibit fur farming of all species in Canada. However, progress on the bill has stalled.
Here's how you can take action:
Contact your local Member of Parliament (MP) to let them know you, along with 81% of Canadians, disagree with fur farming and that Bill C-247 must be implemented. Feel free to use our prompts below to voice your support for this ban, or find more information on fur farming.
Why end all fur farming?
Fur farming is inherently inhumane. Small, barren, cramped cages are not appropriate for wild animals, even those born in captivity, as they retain their natural instincts and needs.
It's irresponsible to allow fur farms to operate during a pandemic. Fur farming presents the opportunity for mutation and spread of COVID-19 and the intensive housing of susceptible species puts more people and animals at risk.
Fur farming conflicts with traditional Indigenous values. The Union of B.C. Indian Chiefs (UBCIC) has called for an end to fur farming.
Fur farming is not a significant contributor to the Canadian economy, yet millions of dollars distributed by our federal and provincial governments have supported struggling fur farms. Government funding should support farmers who are providing food for Canadians, rather than creating luxury products for international markets.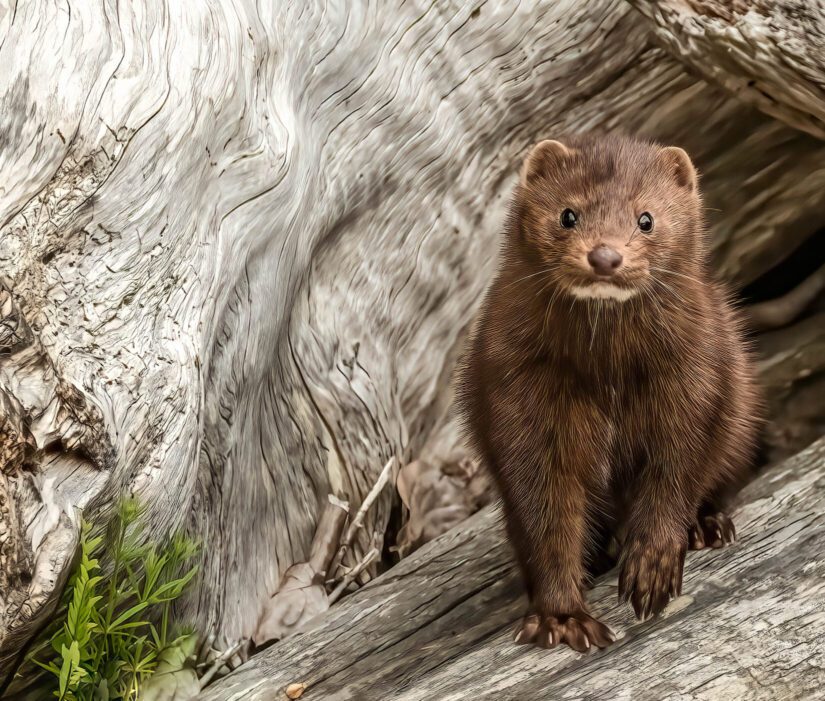 Photo by: Deborah Freeman
---
Mink Farm COVID-19 Crisis Timeline
June 2020 – In wake of COVID-19 outbreaks on European fur farms, BC SPCA warns the Ministry of Agriculture and Ministry of Health of the risk to B.C. and need for a pandemic plan.
Dec 2020 – First COVID-19 outbreak occurs on a B.C. fur farm.
Dec 2020 – The Fur-Bearers, HSI/Canada, BC SPCA, and infectious disease experts call on B.C. government to end fur farming. 19,155 concerned British Columbians join the BC SPCA in calling for a moratorium on mink farming in British Columbia.
Dec 2020 – COVID-19 outbreak occurs on a second B.C. fur farm, at least 200 mink dead.
Jan 2021 – 1000 mink culled on B.C. fur farm after outbreak.
Jan 2021 – David Suzuki and other scientists call for an end to fur farming in B.C.
March 2021 – Breeding resumes in B.C. despite previous COVID outbreaks.
April 2021 – Union of BC Indian Chiefs calls for a moratorium on fur farming in the province.
April 2021 – Infectious disease experts and B.C. doctors appeal to the Ministry of Health about spillover risks.
May 2021 – Third outbreak of COVID-19 on a mink farm in B.C.
July 2021 – Animal advocates learn more about the fur industry in B.C. during webinar.
July 2021 – BC SPCA and Union of BC Indian Chiefs press the Ministry of Agriculture, Food and Fisheries and Premier for an update.
July 2021 – Fourth outbreak of COVID-19 on a mink farm in B.C., found via testing of escaped mink. The Public Health Officer places a moratorium on new mink farms (PDF) and the province announces a review of its policies and regulations with respect to fur farms.
August 2021 – Code of Practice for the Care and Handling of Farmed Mink extends deadline to move to larger cages.
September 2021  – The BC SPCA formally requests budget allocation from the provincial government to provide a dignified transition for fur farmers and workers to other sectors, leading to a ban on fur farming in B.C.
October 2021  – A group of 29 British Columbian infectious disease specialists send an open letter (PDF) to B.C. Premier John Horgan calling for an end to fur farming.
October 2021 – New provincial petition to ban fur farming in B.C.
October 2021 – The Union of BC Indian Chiefs formally endorse a resolution that calls for phasing out of fur farming in B.C. (PDF)
November 2021 – Success! The province announces a phase-out of the mink industry
February 2022 – New federal bill to end all fur farming in Canada introduced – currently no government action.
April 2023 – As per provincial phase-out plan, no live mink must remain on farms.
January 2025 – As per provincial phase-out plan, all operations must cease completely, with all remaining fur sold.