Transport can be a very stressful time for animals. Laws about the transport of animals are made and enforced by the federal government. These laws do not account for what we know about animal suffering during transport. With over 800 million animals transported each year, the investigation into cases of animal suffering is inadequate.
Canada's transportation regulations
The transport laws were originally written in 1977. An amendment to the legislation was released in February, 2019, which came into force February, 2020.
Before updating the laws, the Canadian Food Inspection Agency (CFIA) held a consultation period requesting public input on Canada's laws for transporting animals, and the BC SPCA participated in the consultation.  The CFIA then developed and released a 'What We Heard' report based on the feedback received during the consultation period. Read the report.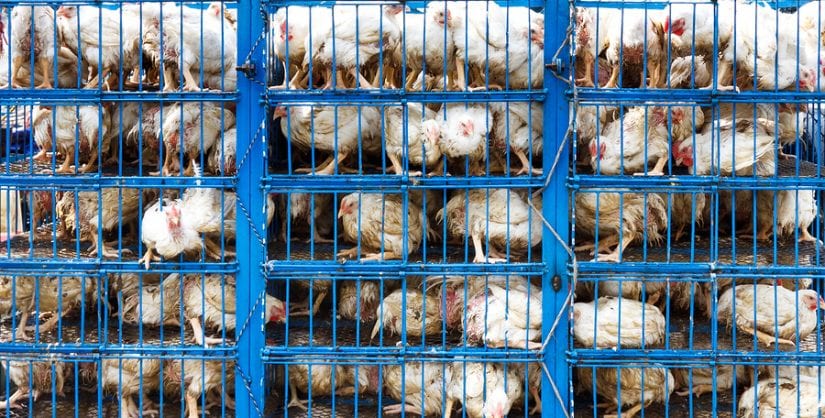 Some positive improvements to the legislation, based on the BC SPCA's submission
Animals that are high risk and need special care, such as those that are pregnant, injured or ill, are more clearly identified and better protected.
There is a decrease in the length of time transported without food, water and rest for commonly farmed animal species such as cows, pigs and chickens.
New guidelines for unacceptable handling methods have been outlined, including prohibitions on beating or kicking animals, or holding them by the wings or horns.
There is a definition for overcrowding, which includes ensuring that animals are transported in their preferred position.
There is still much room for improvement!
Producers can still use painful electric prods as a primary means of handling adult cows and pigs.
There are no clear guidelines for maximum and minimum temperatures that limit when an animal can be transported.
The amount of space each animal must have, called loading density, is not outlined.
The transport times still exceed recommendations from a number of scientific reports. Canada's updated transport times are still longer than maximum transport times allowed by our international trading partners.
We hope these issues, and more, will by addressed by the upcoming update to the National Farm Animal Care Council's code of practice for the care and handling of farm animals: Transportation, which is scheduled to be finalized in Spring 2023. The BC SPCA submitted evidence-based recommendations (PDF) to protect farm animals and invited everyone to support our comments as well as submit their own. Over 2500 people supported our submission. We'll be participating in the code process, with our experts bringing scientific evidence of animal welfare issues to the table.
Because you took action, important topics like overcrowding on trucks, handling, providing feed and water, length of trips, and weather will be considered to help create new requirements and recommendations for anyone transporting farm animals.
The regulations come into force in a year's time, giving industry the opportunity to come into compliance. After that time, they will begin enforcement of the new laws, issuing administrative monetary penalties for those who break the law.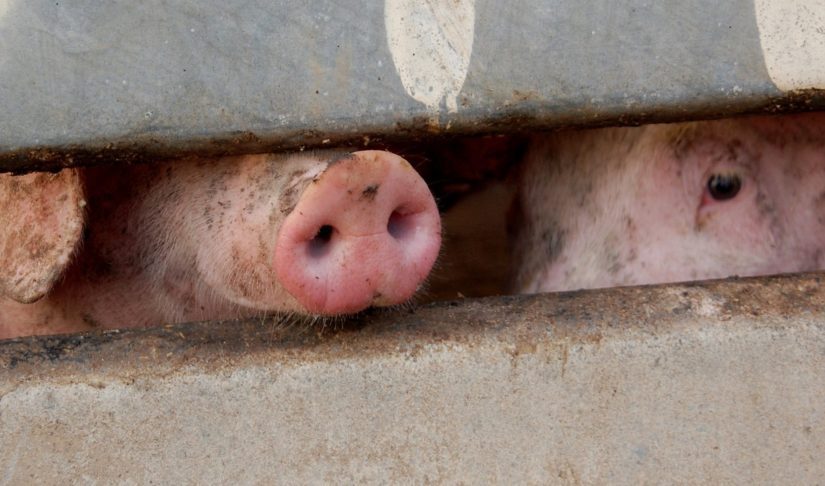 Take action
Here are three suggestions for how you can get involved in making sure animals in transit do not suffer unnecessarily:
What causes pain and suffering during transport?
Transport can lead to pain and suffering for animals by means of:
Rough handling resulting from untrained people trying to speed up the loading process
Too many animals loaded onto the vehicle, resulting in further injuries and sometimes even suffocation
Transport in adverse weather conditions, with no temperature control in the transport vehicle – sometimes animals' bodies freeze or overheat to the point of death
Long periods of time with no food, water or rest – some animals are transported for so long that they become dehydrated and weak
Subscribe to FarmSense newsletter
FarmSense is delivered four times a year and includes news about farm animal welfare, research and updates on what the BC SPCA is doing to help further farm animal welfare in Canada.