BC SPCA Catio Tour 2019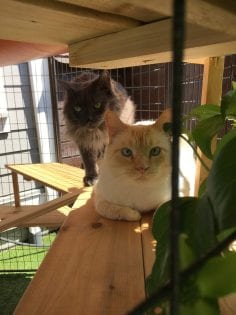 Save the date: The BC SPCA is hosting its inaugural catio tour on Sunday, June 9, in the Vancouver neighbourhoods of Kitsilano and Mount Pleasant.
Volunteer
Are you interested in being a volunteer for the BC SPCA Catio Tour? Email us at catio@spca.bc.ca.
Want to be part of the tour?
If you are a homeowner that already has a catio at your home and you live in Kitsilano or Mount Pleasant, get in touch by emailing catio@spca.bc.ca. We would love to include you in our tour.
Frequently asked questions
What is a catio?
A catio is a screened-in space, a patio for cats if you will! The structure can be attached to the home or free-standing and often includes perches, ramps and other enrichment for cats.

What are some benefits of a catio?
Besides keeping your cat safe from outdoor hazards such as predators, disease, poisons, and cars, catios provide safe and supervised outdoors time. With perches and ramps, cats can snooze in the sun and exercise in the outdoors! By keeping your cat enclosed in a safe space, catios help to protect birds and other wildlife. For those with multi-cat households, the added space provided by a catio may help to reduce territorial issues by providing extra stimulation and room to roam. Finally, catios provide cat guardians with peace of mind knowing that their cat is exploring the outdoors in a safe and protected environment.
How does a cat enter a catio?
There are lots of ways to attach a catio to a home, including door inserts in a window, a single or double flap pet door from the wall, or a tunnel from your home. All types of entries provide 24/7 safe access to the catio.
My cat is a bit skittish. Would they benefit from a catio?
Absolutely! We can help you design the perfect catio for your cat. Skittish cats may appreciate some tunnels for privacy. Curious cats would love hanging out on a high perch to take it all in. Cats on the curvier side may benefit from some "sneaky exercise" from bridges or walkways. Catios cater to all types of cats!
How long will it take for my cat to get used to a catio?
Every cat is unique, but cats typically take to catios in about 1-2 weeks. Providing toys, enrichment, a comfortable place to relax, and fresh water all help to pique your cat's curiosity. If you have the space, place a human-sized chair or two inside your catio to enjoy your cat's company!