Limited time FREE offer
This program is coming to an end soon. Don't miss your chance to participate and save $300 on the cost to fix your cat.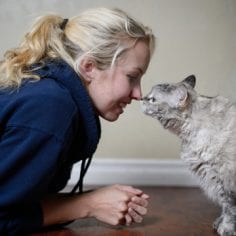 How can you take advantage of this program?
Visit the BC SPCA South Peace Branch (Open Tuesdays-Saturdays, between 1-4 p.m.) with a piece of ID.
Pay a $5 fee for a Dawson Creek cat license (note cat licenses are $200 for unfixed cats)
During this visit, we will issue you a voucher and make you an appointment at a participating vet clinic for a later date.
At your scheduled appointment time, you then take your cat and the voucher to the appointment for your free spay/neuter procedure.
BC SPCA South Peace Branch
BC SPCA South Peace Branch
637 114 Avenue
Dawson Creek
Learn More
What if I don't live in Dawson Creek?
Unfortunately the grant is available only to residents of Dawson Creek. We are continuing to look for funding opportunities to offer a similar service to other areas in need.