Invite a BC SPCA humane educator into your classroom to talk to your students about animals.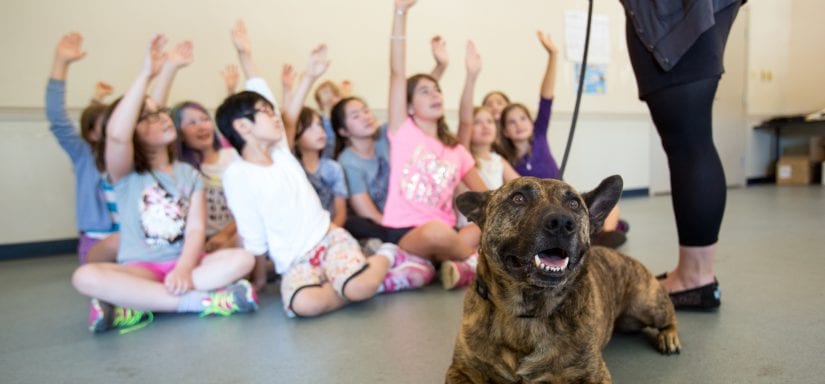 School (K-12) presentations
K-12 teachers can arrange for a BC SPCA humane educator (where available) to deliver an animal-themed presentation (PDF) in the classroom.
Our presentations help students gain a deeper understanding of their place in the world by exploring connections and building empathy for all creatures. Students will cultivate compassion as they learn about social responsibility through inquiry-based learning projects.
Presentation formats
Our presentations are available in single session or three-session formats:
Single session presentations can act as a stand-alone topic or additional classroom materials can be provided.
Three-session presentations reflect inquiry-based learning with a focus on a Know-Do-Understand approach. The first session begins with information delivery and an interactive activity. We leave the class with an inquiry question to inspire a project on the topic. This carries forward into the second session, which includes an activity and a chance for students to ask questions to assist with their project. In the final session, students present their project either in class or at one of our shelters (in which case a shelter tour is also included).
Custom presentations
We can tailor our presentations to fit your expectations. Please contact your local BC SPCA humane educator (scroll below) to discuss your specific needs.
Three-session presentations can be adapted into single sessions upon request.
Ready to book a presentation?
To book a presentation, please fill out our classroom presentation request form (Word or PDF version) and email it to the humane education coordinator in your area (see the list at the end of the form).
Lower Mainland presentations
Vancouver/Richmond/Burnaby/New Westminster/North Vancouver/West Vancouver
Please contact Lisa Keegan at 778.331.2189 or lkeegan@spca.bc.ca
Surrey/Delta/Port Coquitlam/Port Moody/Pitt Meadows/Coquitlam/Maple Ridge/Langley/Abbotsford
Please contact Allison Simpson at 604.574.1711 (ext. 4) or asimpson@spca.bc.ca
Sea to Sky presentations
Squamish/Whistler/Pemberton
Please contact Dan Prisk at 778.231.5944 or dprisk@spca.bc.ca
Vancouver Island presentations
Victoria/Duncan
Please contact Olivia Bancroft at 250.388.7722 (ext. 1226) or ocbancroft@spca.bc.ca
Nanaimo/Parksville/Comox
Please contact Blaire Sigson at 250.741.0778 (ext. 1417) or bsigson@spca.bc.ca
Kamloops & region presentations
Kamloops and surrounding area
Please contact Deirdre Campbell at 250.376.7722 (ext. 1758) or dcampbell@spca.bc.ca
Okanagan presentations
Kelowna/Penticton/Vernon
Please contact Keigan Hollefriend at 250.861.7722 (ext. 1715) or khollefriend@spca.bc.ca
West Kootenay presentations
Castlegar/Trail/Nelson
Please contact Stephenie Campbell at 250.509.0382 or scampbell@spca.bc.ca
All other areas
Please contact your local BC SPCA branch to determine which humane education programs are offered in your community.
Teacher testimonials
"Very informative! Class loved it. They were very eager."
"The presenter's manner was perfect, the little mice props the children could handle were great and Caleb the cat was a real treat!"
"Extremely realistic and relevant."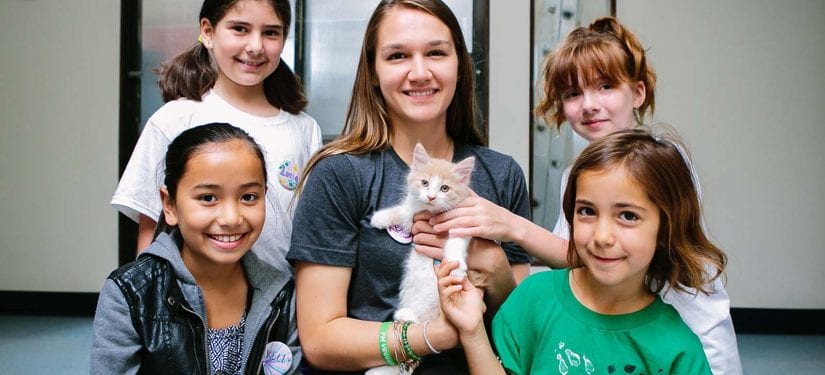 For preschool teachers
Please note that, at this time, we're unable to accommodate preschool presentations. However, we welcome you to visit our Pinterest page for animal-themed activities and games for preschoolers.
Ready-to-go lessons
Looking for more ways to incorporate animal welfare into your lessons? We have humane education lesson plans for primary, intermediate and secondary classes. All materials meet the new provincial learning outcomes.