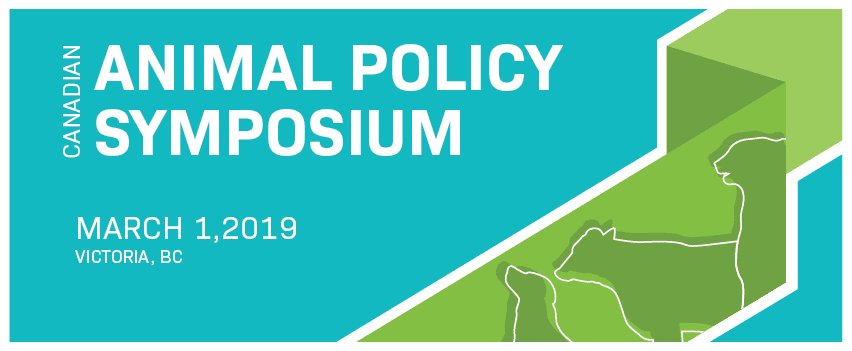 The Canadian Animal Policy Symposium brought together provincial policymakers to share best practices in animal policy development.
The symposium began with a multidisciplinary panel: How changing social attitudes to animal welfare influence policy development
We were happy to welcome the following keynote panelists to lead this conversation:
Dr. Jane Pritchard, DVM, Chief Veterinary Officer, Government of British Columbia
Dr. Dan Weary, PhD, co-founder of University of British Columbia's Animal Welfare Program
Dr. LeeAnn Forsythe, DVM, Disease Surveillance Veterinarian, Government of Saskatchewan
Jackie Wepruk, General Manager, National Farm Animal Care Council
Following the remarks of our opening panel, the symposium heard from the following speakers:
Team from the Ministry of Agriculture, British Columbia: Presenting British Columbia's collaborative approach to animal welfare policy, which considers immediate and long-term actions through extensive consultation and facilitation with stakeholders. Specific examples of recent policy work provided.
Dr. LeeAnn Forsythe DVM, Disease Surveillance Veterinarian, Saskatchewan: Speaking on the Government of Saskatchewan's Interagency and Animal Welfare Task Team, addressing the link between distress in animals and underlying human health conditions.
Dr. Glenna McGregor DVM, Veterinary Pathologist, British Columbia: Discussing policy options to prevent disease transmission between domestic and wild sheep populations in BC.
Dwight Thompson, Legislative and Regulatory Specialist, Prince Edward Island: Presenting on the development of PEI's 2017 Animal Welfare Act, addressing the reason for change, the stakeholder consultation process, regulation development and impact to date.
Jackie Wepruk, General Manager, National Farm Animal Care Council: Sharing NFACC's development process for the Codes of Practice for the care and handling of farm animals, including challenges with implementing the Codes and insights into growing trends among provinces to incorporate the Codes.
For further details on each speaker and their presentation, please review our conference program (PDF).
Additional presentations at the symposium  were led by two Master of Public Administration students exploring policy changes impacting wild animal conservation and welfare. The symposium closed with final remarks on the future of provincial animal policymaking in Canada.
For access to presentations or video recordings of the event, please contact us at outreach@spca.bc.ca.