Learn about food labels
Looking for higher welfare meat, eggs and dairy products at your local grocer? This guide will help you decipher what food labels really mean.
Look for SPCA Certified products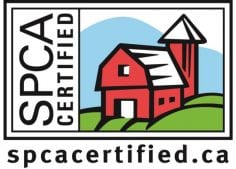 SPCA Certified is a third-party farm animal welfare certification program that does the certification and labelling work for you. The standards (i.e. program requirements) are developed by the BC SPCA in partnership with animal welfare scientists, veterinarians, industry leaders and farmers.
Farms that are SPCA Certified raise their farm animals to higher standards of care than generally accepted industry practices (PDF). SPCA Certified farmers do not use cages or crates, they give their animals more space to move and interact with each other, better pain management practices are in place, and enrichment in their environment allows each animal to express more of the positive behaviours that come naturally to them.
Every certified farm goes through a rigorous annual on-farm assessment and review process that ensures it is following the animal welfare standards. Further, each year, 10% of the farms in the program are also subject to a random audit (an unannounced visit).
When considering what to serve for your next family meal, look for the SPCA Certified "little red barn" label and support local farmers who are putting the well-being of farm animals first.
Tell me more about the SPCA Certified program or contact the SPCA Certified team.
Stay in touch!
Are you passionate about farm animal issues? Use the form below to subscribe to FarmSense e-newsletter. You will receive news and information on what the BC SPCA is doing to help further farm animal welfare in Canada, delivered to your inbox four times per year!