Please note: SPCA Certified is only accepting new applicants raising broiler chickens and/or egg-laying hens at this time. We apologize for the inconvenience.
"Becoming SPCA Certified hasn't impacted our time or costs. We get a better price for our product than the conventional producers. We have sold more because of SPCA certification."
– Charlie Lasser, Lasser Ranches

SPCA Certified is Canada's leading farm animal welfare certification program, showcasing farmers who are exceeding Canada's minimum Codes of Practice. Every farm product displaying the little red barn logo has been third-party audited to our SPCA Certified standards, which are written in partnership with farmers, veterinarians, researchers and agriculture industry experts.
A few ways in which SPCA Certified standards improve farm animal welfare are by:
Prohibiting confinement housing, like battery cages for hens and sow stalls/crates for pregnant pigs
Providing an environment that promotes comfort, positive natural behaviours and healthy social interactions
Limiting painful practices
Using outcome-based assessments, like body condition and lameness scoring, to ensure animals stay healthy and pain-free
The SPCA Certified program was launched in B.C. in 2002 and has since expanded nationally. Today we certify farms across Canada raising beef cattle, dairy cattle, sheep, pigs, laying hens, broiler chickens and turkeys.
The SPCA brand
The SPCA brand has over a million supporters across Canada!
4.6 million website visits annually
85,000 Facebook followers
41,100 Twitter followers
31,600 Instagram followers
Over 80,000 donors, and growing!

Why your farm should be SPCA Certified
We share your farm story with millions of Canadians
We have dedicated supporters looking to buy foods produced by farmers like you
We put you in touch with retailers and restaurants looking for your products
Membership fees are lower than other farm certifications
You receive a premium for your SPCA Certified products
Our farmers sell out of product faster than they can produce it!
How the certification process works
Contact us to certify your farm in as little as three months!
The little red barn logo on your certified products will let customers know your farm has been reviewed and approved by the BC SPCA. Here's how it works: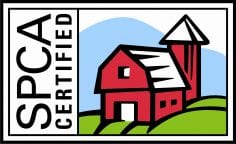 Register your farm and download the program standards
Site audit by program Validator – we can time this visit with your other audits
Audit file reviewed by our program Review Panel
Certification decision communicated to you
Meet other great SPCA Certified farmers.