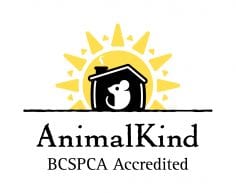 Looking for humane wildlife removal? AnimalKind is the BC SPCA's animal welfare accreditation program for pest control companies and dog training businesses.
For wildlife like raccoons, squirrels, birds or skunks, AnimalKind companies focus on the quick and effective removal of animals and prevent future problems, instead of trapping, relocating or killing. Find an AnimalKind accredited company, or if you are a control business, learn more about becoming AnimalKind.
Mice and rats are a serious health risk, but most people want the problem resolved in the kindest way possible. When you choose an AnimalKind company, you can have confidence that your choice is animal friendly.
Contact your local government about keeping animals safe from poison
Find out when AnimalKind is available in your area

Accredited companies follow AnimalKind's evidence-based standards (PDF) (updated October 2020), and the BC SPCA audits companies every year to check they are meeting the standards. The standards and audit are both certified by the Professional Animal Auditor Certification Organization (PAACO).
Questions about AnimalKind? Read our FAQs or learn more about the benefits of becoming an AnimalKind company.
What people are saying
"Having spent much of my 33-year career in this industry trying in vain to establish licensing for wildlife control, I understand how much work went into creating AnimalKind. I am so excited about the positive impact this program will have on our cities and I cannot wait for AnimalKind to become the North American standard." – Brad Gates, Owner/President of AAA Gates Wildlife Control
"The Fur-Bearers organization is thrilled that customers can now turn to AnimalKind to distinguish between companies that truly care for and protect wildlife, and those that call themselves "humane" as a marketing gimmick." – Lesley Fox, Executive Director of the Association for the Protection of Fur-Bearing Animals
"Wildlife Rescue Association of BC welcomes the AnimalKind accreditation program! Accredited pest control companies support coexisting with wildlife and taking a humane approach that benefits both people and wildlife" – Linda Bakker, Programs Director; Coleen Doucette, Executive Director of Wildlife Rescue Association of BC

AnimalKind and the AnimalKind logo are trademarks owned by the BC SPCA. AnimalKind was developed with the support of our funders, and with expert advice from UBC's Animal Welfare Program: