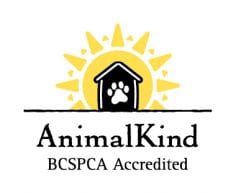 You love your dog. Reward-based training methods are shown to be more effective and better for your dog.
AnimalKind is the BC SPCA's animal welfare accreditation and referral program for animal-related businesses. AnimalKind has standards (PDF) for dog training, and can help you find a good dog trainer.
To develop the dog training standards (PDF), we surveyed B.C. dog trainers about current practices, received detailed feedback on the standards from animal behaviour and dog training experts, from 36 BC dog trainers we consulted with, and public feedback during a four-month comment period.
Read the scientific review of dog training methods (PDF) that informed the standards, or watch the webinar explaining the science behind our dog training standards. The first accredited companies will be announced in January 2019 – sign up below to get notified.
Stay up to date on AnimalKind
By signing up, you'll get the latest news like when new companies are accredited, or new standards are developed.