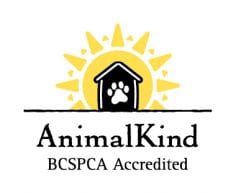 There are many different certifications and designations for dog training – so how can you choose a good dog trainer?
AnimalKind is the BC SPCA's new animal welfare accreditation and referral program for animal-related businesses. AnimalKind will help us connect dog owners with trainers who use verified humane methods.
Our goal is to help more dogs by creating a community of dog trainers who use science-based practices and share animal welfare values. To help develop dog training standards, we surveyed B.C. dog trainers about current practices, received detailed feedback on the standards from nine external and academic training experts, and from 36 dog trainers we consulted with.
The comment period to provide feedback on the draft standards ended on October 31, 2018. The draft standards (PDF) are still available for viewing, and the final version will be posted by the end of the year.
Draft standards – UNDER REVISION
Stay up to date on AnimalKind
By signing up, you'll get the latest news like when the standards are finalized, new companies are accredited, or new standards are developed.