April 25 is World Veterinary Day, and what better time to thank the amazing individuals who provide life-saving help for tens of thousands of animals across British Columbia!
Created by the World Veterinary Association back in 2000, World Veterinary Day is a day to celebrate and acknowledge the hard work of veterinarians who do so much to protect and take care of our furry and feathered friends. From domestic pets to farm animals to wildlife, vets play a vital role in the health, happiness, and well-being of our four-legged companions. According to the Canadian Veterinary Medical Association there are nearly 13,000 veterinarians across Canada, with 1,674 located in British Columbia.
With three hospitals and two spay/neuter clinics, the BC SPCA provides an array of veterinary services for owned and shelter animals, as well as participating in research and nation-wide initiatives for animal health and welfare. To celebrate the important role of veterinarians and their unwavering commitment to animals, we spoke with three of our veterinarians to discuss their job, why they love what they do and their advice for those who are interested in pursuing a career in veterinary medicine.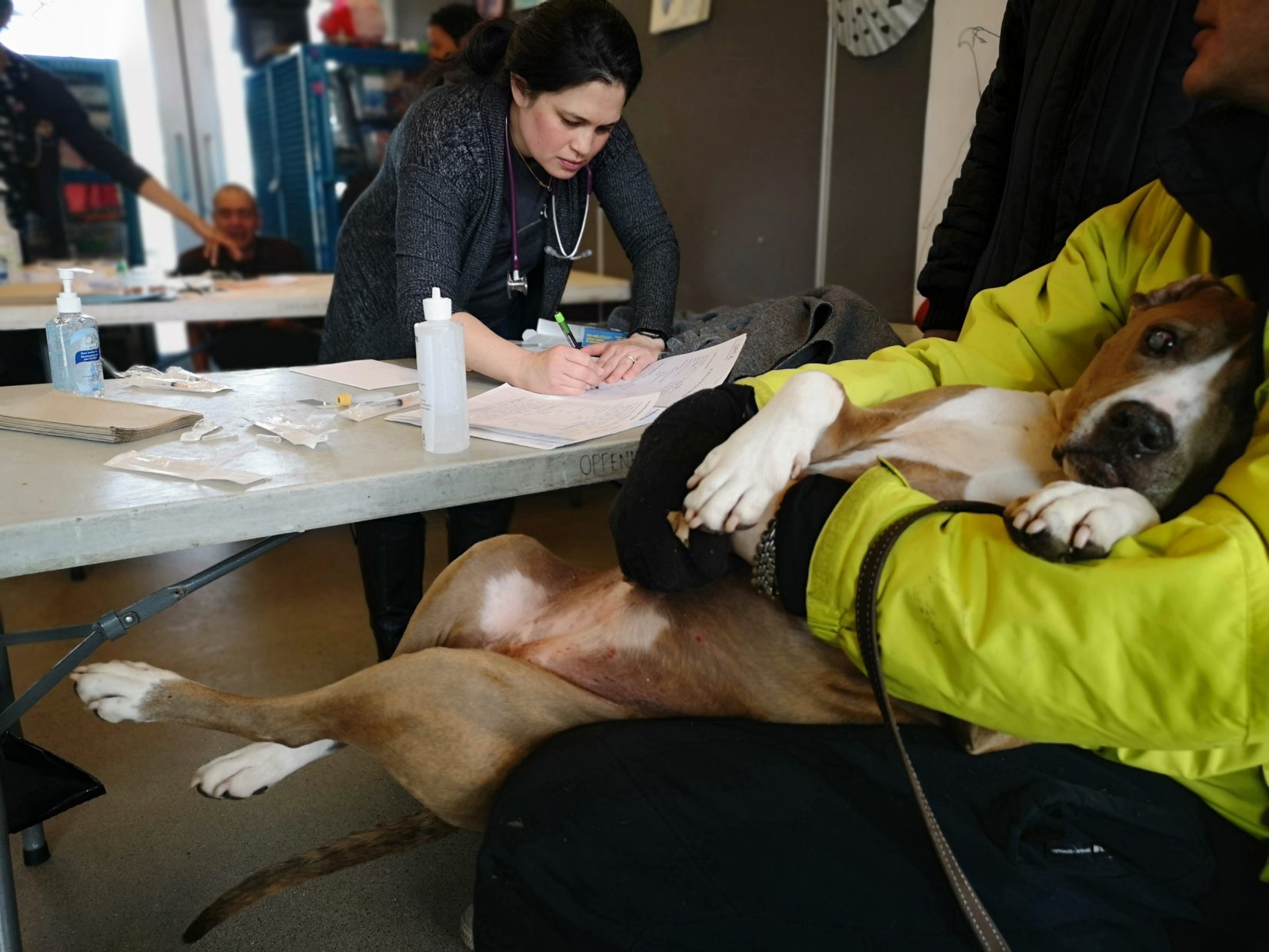 Dr. Emilia Gordon – Senior Manager, Animal Health, BC SPCA
Dr. Emilia Gordon oversees the health protocols for all of the BC SPCA' shelter animals. Her team provides protocols, training and information for the organization's shelters based on scientific information and clinical guidelines. They also work on outbreak prevention and management, in addition to working on research collaborations and with veterinary students and external experts and stakeholders to advance shelter medicine and animal welfare knowledge across the sector.
Gordon says what's unique about her job is that "shelter medicine is quite different from private veterinary practice. The animals we care for often have no known history, and we must consider both individual needs and population 'herd health' needs when formulating diagnostic and treatment plans."
Her favourite part of her role is "getting to work with and visit our shelter teams across the province of B.C. Each location is so different in community needs and how the facility is set up, but they have one thing in common: improving the lives of animals and supporting the community. We are so fortunate to work for a progressive and unified organization, and B.C. is a beautiful place."
One of Gordon's proudest moments involved a recent collaboration with a shelter medicine specialist at Cornell University to analyze all their data relating to ringworm (a contagious fungal infection of the skin) infections in incoming animals to help identify risk factors. "Our findings will be published this year in a veterinary journal. It's exciting that this information might help other veterinarians, particularly those caring for animal victims of cruelty and neglect who are much more likely to have this type of skin infection."
Becoming a veterinarian was an easy choice for Gordon who knew that she wanted to pursue the profession at eight years old. "I have always loved animals and science. When I found out that 'doctors for animals' existed I knew that was what I wanted to do."
If you have the same ambitions, Gordon's advice for prospective vet students is to work hard in school and to volunteer or work with different types of animals and veterinary practices. "I also recommend researching some of the more serious challenges in veterinary medicine, such as the debt you need to take on and expected income, before making any decisions." Nonetheless, she says, "Veterinary medicine is an incredibly rewarding career."

Dr. Hatley McMicking – General Manager, Veterinary Services, BC SPCA.
A recent member of the BC SPCA team, Dr. Hatley McMicking oversees the organization's three animal hospitals located in Vancouver, Burnaby, Penticton, and the two Spay/Neuter Clinics in Kamloops and Prince George. McMicking says her first weeks on the job have been mainly mostly focused developing a model for the SPCA clinics to provide veterinary services while taking into account public health needs as a result of COVID-19.
"Once that's out of the way my role is to ensure that the clinics have the leadership and guidance to accomplish their goals as well as working on province-wide initiatives for the BC SPCA's veterinary services across British Columbia," she says.
McMicking says she was the "typical person" who wanted to be a veterinarian since she was a child. "I always loved medicine and always loved animals, and bridging the two together was phenomenal," she says. "I think what really solidified it for me was working as a technician in clinics and working in rural communities in Central America. That was when I really knew that medicine was the right path for me."
She says what she loves most about her job and profession is two-fold. "What I love most about my job is that I love the organization I work for and I love the people who I work with. They are passionate about animal welfare and come to work every day and give it their all to protect pets, farm animals and wildlife." What McMicking loves about being a veterinarian is going beyond the scope of the education and typical experience received. "A lot of the time people assume as the job of a veterinarian is to work in a clinic and deliver medicine. I've always pushed a bit against that to explore the boundaries of what can be done with the degree. Besides practicing medicine, I've tried to explore other opportunities and areas like management and business relations, which is another reason why I joined the BC SPCA."
For those who are interested in pursuing a degree in veterinary medicine, her advice is similar. "What I tell people who are considering a career in veterinary medicine is that you can do so much with your degree. It's important for students in vet school to know that a veterinary degree doesn't just open the doors for you to practice medicine, it opens so many career options. It's really a cool profession to explore."

Dr. Karen van Haaften – Senior Manager, Behaviour & Welfare, BC SPCA.
Dr. Karen van Haaften is a veterinarian who took on post-graduate work to become a Board-Certified Veterinary Behaviourist, a designation which is achieved by a limited number of practitioners in North America. Half of her role, she says, involves working on provincial projects such as developing new materials for training shelter staff, like the BC SPCA's AnimalKind Dog Trainer Accreditation Program. The other half consists of working with BC SPCA branches on behaviour cases in care and developing behaviour modification programs for animals who have problem behaviours so that they are able to be adopted into new homes.
"The most common behaviour problem we work on is fear of people or unfamiliar environments, but we also see a lot of kennel stress, fear aggression, and unruly leash behaviour," says van Haaften, adding that many behaviour problems in pets can actually be a symptom of underlying medical conditions. "For example, at least 80% of feline over-grooming cases are eventually attributed to dermatology issues like allergies or parasites. Behaviour problems such as handling sensitivity and noise phobia in dogs are often associated with painful conditions such as back pain or arthritis."
Often her work on behaviour cases starts with "a good medical work-up, in partnership with our amazing community veterinary partners."
While days that involve happy post-adoption updates and her spending time with animals are her favourite, van Haaften shares one particular experience from last year that stands out as a career-defining moment. "Last fall I fostered a feral cat named Journey, who had survived a three-and-a-half week trip in a shipping container without food or water from Shenzen, China to Prince George, B.C. It took a month for her to recover from her starvation, and the better part of a year for her to learn to be able to enjoy living in human homes. She is now a silly, playful house cat who loves nothing more than playing with wand toys and napping in sunbeams. She's ready to find her forever home, and I'm ready for another behaviour foster."
Van Haaften says her career as a veterinarian seemed like a good way to combine her interests in science and animal welfare, adding she also appreciates the wide variety of career paths available to veterinarians. "My career has changed many times already. From emergency/critical care to general practice to referral clinical behaviour to shelter behaviour/animal welfare." For those who might want to pursue a similar path, she's quick to point out that people often forget that veterinary medicine is a service industry. "You have to like working with people as well as working with animals. It's a challenging, fast-paced, science-based, and highly rewarding career. I recommend it."
World Veterinary Day is the perfect time to thank your local veterinarian as well as those who work tirelessly to protect and preserve the well-being of animals. You might consider dropping them a thank you note on social media or gifting them with a treat basket for everything they do.
You can also show your support and donate to support veterinary services for homeless and abused animals.