Fido's got a friend in the VPD.
Still busy with many of the 66 dogs and puppies seized from a Langley puppy mill in February, Vancouver BC SPCA Branch staff were thrilled to hear that the Vancouver Police Department's K9 unit is donating $1,300 of their overtime hours to help the dogs still in BC SPCA care. And they're challenging their colleagues in other canine units across the province to do the same.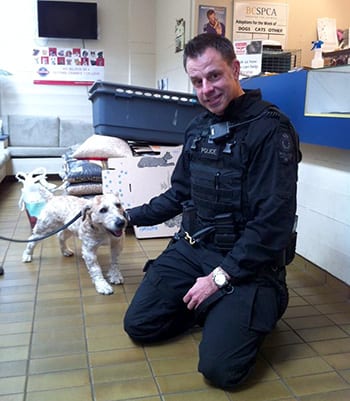 "We talked about how we could best help the Langley 66 dogs, and we thought financial support would be best, so the K9 unit held a drive and donated overtime hours to help the BC SPCA," says VPD Sgt. Randy Fincham. "We'd like to challenge other canine units to do the same."
Fincham recalls emailing the BC SPCA when the news of the puppy mill seizure first broke in February, to offer to foster one of the 66 dogs seized from the puppy mill, where they were kept in deplorable conditions, and says it's natural for many to want to help when such horrific news breaks.
"Nobody wants to see animals hurt or neglected so badly, and I think it gets people wondering if there are other people running similar operations out there," Fincham says. "Our dog handlers wanted to reach out and support these dogs, who are like kin to their (four-legged) colleagues."
Vancouver BC SPCA Branch manager Charlotte Ellice was pleased to hear the news.
"We are so grateful for the Vancouver Police Department's generosity – and for the overwhelming generosity we've experienced from the public at large since these dogs came into our care," she says. "They epitomize how the community has really come together to help us tackle such a large animal seizure, and we look forward to seeing if the challenge will be accepted by other police departments."
While several of the 66 dogs and puppies have now been adopted, many more will still need loving, forever homes. The Vancouver SPCA is now accepting new applications for the remaining adult dogs, which include Bernese mountain dogs, Wheaten terriers, Portuguese water dogs, and poodle mixes. Please email applications to vancouver@spca.bc.ca.
The British Columbia Society for the Prevention of Cruelty to Animals is a not-for-profit organization reliant on public donations. Our mission is to protect and enhance the quality of life for domestic, farm and wild animals in B.C.