The BC SPCA is pleased to be partnering with Vancouver's first "Catfe", a unique cafe for cat lovers. Catfe customers are encouraged to mingle with feline residents while tasting cat-themed treats and shopping for meowchandise. The Catfe is the brainchild of Michelle Furbacher, a former BC SPCA volunteer who decided to combine a career transition with her life-long love of cats.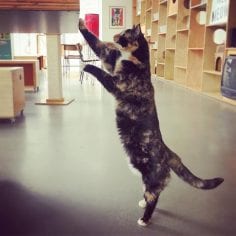 "I based the Vancouver Catfe on similar cafes in Europe and on the west coast of the United States"," says Furbacher. "The concept has been very successful elsewhere and I wanted to bring it to Vancouver."
The cafe, located on the second floor of Vancouver's International Village Mall at Keefer and Abbott Streets, will be home to a selection of BC SPCA cats awaiting adoption. Furbacher consulted with the SPCA to ensure that the cafe has high standards of welfare for the cats, including shelving units to climb, scratching posts, enrichment toys and a "cats only" backroom for privacy. Her staff has also been trained in SPCA adoption counselling and matching procedures.
"We are really grateful to Michelle and her team for enabling us to bring these cats into a community gathering space where they can interact with potential adopters," says Lorie Chortyk, general manager of community relations for the BC SPCA. "It's a wonderful way to showcase the animals, and even if people aren't able to adopt at this time, the Catfe is a fantastic way for cat lovers to enjoy the company of feline friends."
The Catfe, which opens to the public on Dec. 14, operates on a reservation system to ensure that an appropriate number of patrons are interacting with the feline residents at any given time. To reserve or for more information, visit catfe.ca.
Catfe
#2035, International Village Mall, 88 West Pender Street, Vancouver, BC V6B 6N9
Phone: (778) 379-0060
Hours of Operation:
Sunday to Wednesday, Friday & Saturday: 11:00 a.m. to 9:00 p.m.
Thursday: 5:00 p.m. to 9:00 p.m.
catfe.ca